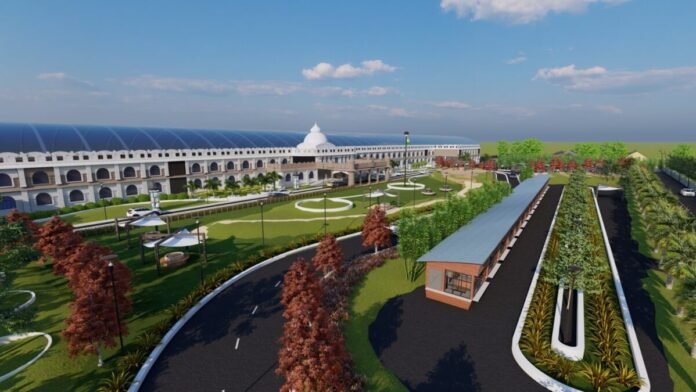 In a significant stride towards modernizing transportation infrastructure, the state of Tripura is set to witness a monumental transformation of its railway stations. Dharmanagar in North district, Kumarghat in Unakoti district, and Udaipur in Gomati district are poised for a remarkable overhaul as part of the Amrit Bharat Station Scheme. With an ambitious budget of Rs. 96.6 crores, this initiative aims to elevate the travel experience for railway users in the state, ushering in a new era of world-class amenities and facilities.
The foundation for this impressive redevelopment was laid by none other than Prime Minister Narendra Modi himself. Through a video conference on August 6th, 2023, he inaugurated the groundbreaking ceremony for a total of 508 railway stations across the nation. This event marked a significant milestone in India's journey towards modernizing its railway infrastructure, enhancing both passenger comfort and the nation's economic landscape.
Spearheaded by the Northeast Frontier Railway, the redevelopment of these three prominent railway stations is poised to create a fusion of opulence and allure. The meticulous design takes into consideration the diverse needs of travelers from various backgrounds, including those with disabilities. It's a testament to the government's commitment to inclusive development.
The architectural blueprint draws inspiration from Tripura's rich cultural heritage. The promise to infuse each station with a vibrant tapestry reflecting the state's core values is not just a design choice but a declaration of preserving and celebrating Tripura's unique identity. However, it's not just about aesthetics. Environmental preservation is a cornerstone of this project. The eco-conscious design harmonizes these railway stations with the lush green surroundings of Tripura, embodying a balanced blend of modernity and nature.
As passengers step inside the revamped stations, they will be greeted by comfortable seating arrangements that prioritize their convenience. But it doesn't end there. The exteriors of these stations are being meticulously designed to encapsulate the essence of a dynamic journey. This design philosophy aims to artistically capture the spirit of Tripura and the sense of adventure that comes with travel.
What's truly groundbreaking about this initiative is its ambition to transform these stations beyond their conventional roles as mere transit points. They are evolving into gateways that unlock the treasures of Tripura's tourism potential. This, in turn, ignites a substantial boost to the state's economic landscape. By creating an inviting environment for travelers, these stations are poised to draw in more visitors, injecting life into local businesses and creating job opportunities.
Prime Minister Modi, during the inauguration of these transformative projects, emphasized the profound impact of modernized railway stations on India's development narrative. He highlighted how these revitalized stations would leave a lasting impression on visitors, not only boosting tourism but also catalyzing economic activities in the areas around them. This strategic approach to development is a testament to the government's commitment to enhancing rail connectivity, which is seen as a cornerstone of building a progressive and modern India.
The revamped railway stations, now branded as Amrit Railway stations, are more than just infrastructure upgrades. They stand as symbols of celebrating heritage and evoking a sense of pride among all citizens. The architecture, inspired by Tripura's culture, the integration with nature, and the commitment to inclusivity, showcases the government's dedication to holistic and sustainable development.
The journey towards modernizing these railway stations represents a microcosm of India's larger vision. It's about intertwining modernity with tradition, creating spaces that not only serve their functional purpose but also reflect the soul of the region. By investing in such projects, the government is acknowledging the importance of infrastructure in shaping the nation's growth trajectory.
Furthermore, this initiative echoes India's aspiration to stand shoulder to shoulder with the global community when it comes to transportation and infrastructure. These redeveloped railway stations send a message that India is ready to offer world-class facilities to its citizens and visitors alike.
It's also noteworthy how these projects align with the broader 'Atmanirbhar Bharat' (Self-Reliant India) vision. By investing in the modernization of its infrastructure, India reduces its dependence on foreign technologies and expertise. Instead, it harnesses its own potential, creating a ripple effect that contributes to job creation, skill development, and economic growth.
The transformation of these railway stations is not just about bricks and mortar. It's about revitalizing the spirit of travel, of exploration, and of connection. It's about making a statement that a nation's progress is intrinsically tied to its ability to move forward together.
In conclusion, the modernization of Tripura's railway stations under the Amrit Bharat Station Scheme is a testament to India's commitment to progress. Through a blend of architecture, inclusivity, and environmental consciousness, these railway stations are set to become more than just infrastructure – they are poised to become symbols of a modern, proud, and dynamic India. As the journey unfolds, these stations will stand as beacons of the nation's growth and its unwavering march towards a brighter future.