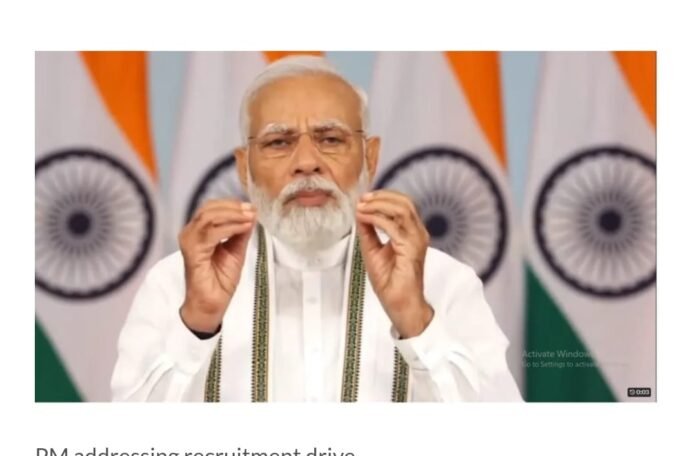 In a significant development, Prime Minister Narendra Modi expressed his heartfelt congratulations to the youth of Assam and their families through a video conference for their remarkable achievement in securing government jobs as part of the largest ever employment generation drive. The event, which showcased the government's commitment to empowering the youth and fostering economic growth, took place in Guwahati.
During the conference, the Prime Minister applauded the collective efforts of the youth in obtaining government positions, emphasizing the impact this achievement would have on their lives and the development of the state. Modi commended the resilience, determination, and hard work demonstrated by the successful candidates, acknowledging their dedication to securing a bright future for themselves and their families.
Highlighting the significance of this accomplishment, the Prime Minister underscored the government's commitment to providing opportunities and promoting inclusive growth across the nation. He reiterated that the youth of Assam are vital contributors to the country's progress, and their success reflects the government's efforts in creating an enabling environment for skill development, entrepreneurship, and employment generation.
Modi emphasized the transformative power of education and urged the youth to continue striving for excellence. He encouraged them to embrace innovation, adapt to emerging technologies, and expand their skill sets to stay ahead in the competitive job market. By doing so, he emphasized, they would not only shape their own destinies but also contribute to the overall growth and development of Assam.
The Prime Minister's address further highlighted the importance of building a dynamic ecosystem that nurtures entrepreneurship and innovation. He stressed the need for continued government support in creating an enabling environment for startups and small and medium enterprises (SMEs), which are crucial drivers of economic growth and job creation.
The conference also served as a platform for the youth to interact with the Prime Minister directly. Participants had the opportunity to seek guidance, share their experiences, and gain valuable insights from Modi's vision for a prosperous and self-reliant India.
In conclusion, Prime Minister Narendra Modi's virtual address to the successful candidates of Assam's largest employment generation drive conveyed his appreciation for their achievements and dedication. The event underscored the government's commitment to empowering the youth and creating a conducive environment for their growth. It served as a motivation for the youth to continue striving for excellence and contribute to the progress and development of Assam and the nation as a whole.