Five accomplished shooters from Nagaland are set to demonstrate their skills at the 66th National Shooting Championship Competition (NSCC) 2023. The event, focusing on Small Bore Rifle & Pistol disciplines, will unfold at the renowned Dr. Karni Singh Shooting Ranges in New Delhi and MP Shooting Ranges in Bhopal from November 15 to December 9, 2023.
5 Talented Shooters: Selection and Authorization
The Nagaland Rifle Association confirmed on Saturday that the selection process adhered to the rules outlined in the National Rifle Association of India (NRAI) Match Book 2023 (amended). The shooters earned their spots based on merit, showcasing the depth of talent within Nagaland's shooting community.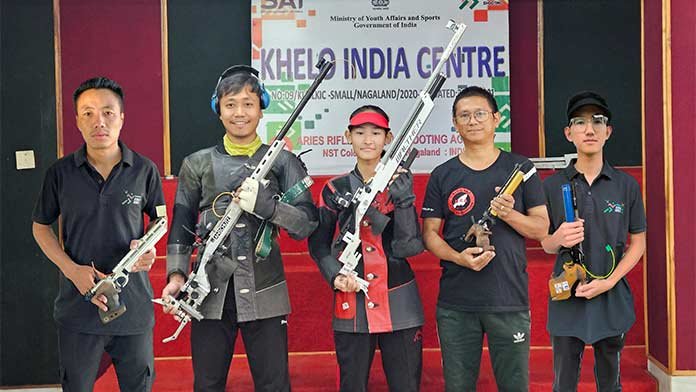 Authorized with valid Arms Licenses and weapon carry letters issued by the NRAI, these shooters are set to make their mark on the national stage. Their participation is not only a testament to their individual skills but also a representation of Nagaland's commitment to nurturing and promoting talent in the field of shooting.
To facilitate seamless participation, the shooters are granted permission to travel with their equipment from key locations such as Kohima, Dimapur, or Mokokchung to the event venues in New Delhi and Bhopal. The Directorate General of Civil Aviation (DGCA) guidelines for air, train, or road transportation will be strictly followed, ensuring both safety and adherence to protocols.
The selected shooters representing Nagaland at the 66th NSCC include Yimyakumla, Lanu Rongsenkaba Jamir, Kimatsung Jamir, Neizo Belho, and Imnanungsang Tzudir. As these shooters embark on their journey to compete at the national level, they carry not only their personal aspirations but also the hopes and pride of the entire Nagaland shooting community.
The 66th NSCC promises to be a platform where these athletes can shine and make their state proud. Nagaland's Five Talented Shooters aim for nothing less than glory as they prepare to compete in this prestigious national championship.