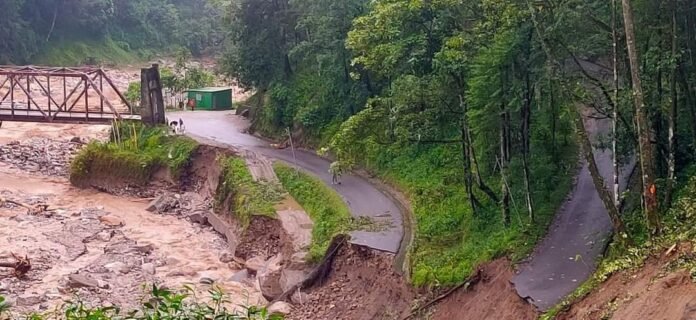 In a horrifying turn of events, Uttarey, a serene village nestled in the heart of West Sikkim, North East India, has been plunged into chaos as heavy rains triggered flash floods and landslides. The cataclysmic natural calamity has left the region in a state of utter devastation, with 10 houses swallowed by the raging waters and the crucial Dentam-Pelling road completely shut down.
The calamitous flash floods struck Uttarey in the dead of the night, catching the unsuspecting residents off-guard. Torrential downpours, which continued for several hours, caused the local rivers to overflow their banks, unleashing a torrent of water that cascaded through the village. The surging deluge mercilessly engulfed the low-lying houses, leaving them submerged under several feet of water.
As rescue operations swung into action, the heroic efforts of local authorities and the National Disaster Response Force (NDRF) came to the forefront. They braved the treacherous conditions, battling against time to save as many lives as possible. So far, several individuals have been successfully rescued, but many remain unaccounted for as the search and rescue operations intensify.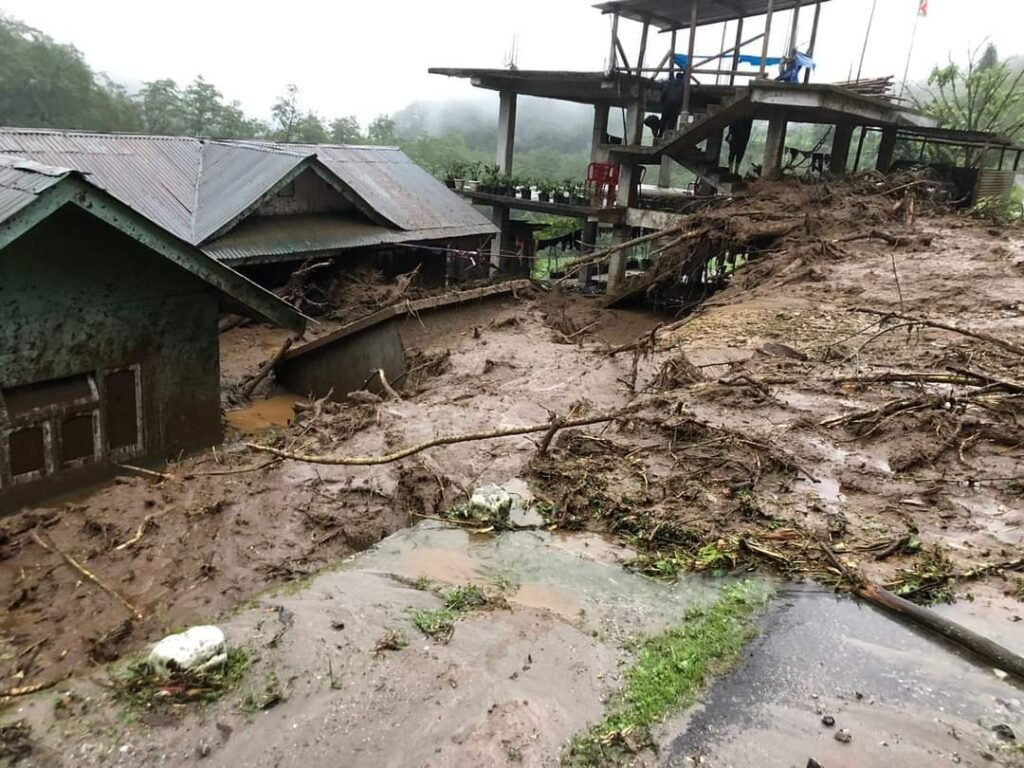 The aftermath of the flash floods also revealed the extent of damage caused by landslides in the area. Massive chunks of earth and rocks tumbled down from the steep hillsides, burying parts of the Dentam-Pelling road under a mountain of debris. The crucial lifeline that connects several towns in the region has been sealed off, leaving thousands stranded and cut off from essential supplies and medical aid.
The local administration, working in tandem with the state government, has initiated relief measures to provide immediate assistance to the affected residents. Temporary shelters have been set up to house those who have lost their homes, while medical teams have been deployed to address any injuries or health emergencies.
The tragic events unfolding in Uttarey serve as a stark reminder of the immense power of nature and the vulnerabilities we face in the face of such catastrophic events. As the region struggles to recover from the aftermath of this calamity, the community rallies together, drawing strength from one another in the face of adversity. The road to recovery will be arduous, but with resilience and support, Uttarey will emerge stronger than ever before.