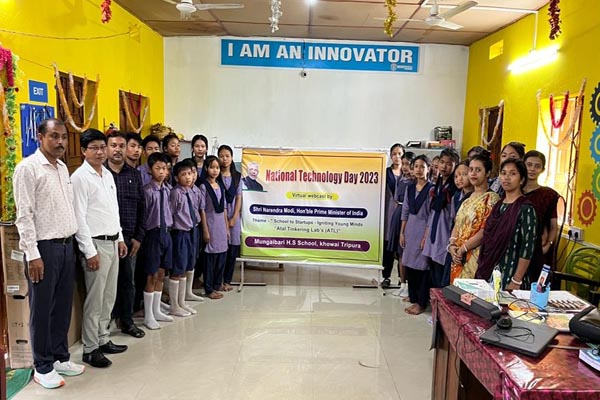 Indian Prime Minister Narendra Modi celebrated National Technology Day by interacting virtually with students from the Atal Tinkering Labs (ATL) project, which aims to empower school students in remote areas by training them in advanced technology. The ATL project was launched in 10,000 schools across India to provide opportunities to students and encourage schoolgirls to operate sophisticated machines in the future.
In Tripura, 34 schools are associated with the ATL project, including Mungiakami HS+2 School in the Khowai district. The project was introduced at Mungiakami HS+2 School in Teliamura sub-division in September 2021, and all the students were given the opportunity to participate in the virtual webcast with the Prime Minister to celebrate National Technology Day.
The students and teachers at Mungiakami HS+2 School have been working diligently under the supervision of the ATL teacher in charge, creating various projects, including drone flying, robotics engineering, and 3D printing. These projects were uploaded to a YouTube channel, which helped showcase the talents of the students and their potential to excel in the field of technology.
The state government recognized the efforts of the students and teachers at Mungiakami HS+2 School by awarding the school the title of "Best School in the State for Information & Technology" in 2022. This recognition highlights the success of the ATL project in bringing technological education to remote and disadvantaged areas of India, empowering students to explore new opportunities and excel in the field of technology.
Through the ATL project, the Indian government aims to create a culture of innovation and creativity among students by providing them with access to advanced technology. The project's success in Tripura, as seen at Mungiakami HS+2 School, demonstrates that the ATL project has the potential to bring about a positive change in the lives of students and help bridge the digital divide in India.