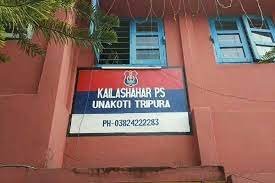 Political tension has risen in Kailasahar town, following the defacing and destruction of numerous flexes containing pictures of Chief Minister Dr. Manik Saha and Social Welfare Minister Tinku Roy, conveying best wishes to the people. These flexes were put up on April 14 in anticipation of the New Year celebrations and remained intact for three days. However, on the night of April 17, many of these flexes were found defaced or blackened by unknown miscreants all over the town.
The sight of the vandalized flexes has sparked tension among BJP workers and supporters, with many people preparing to protest on April 17. The President of the Kailasahar Mandal, Siddhartha Dutta, and Chairperson of Kailasahar Municipality, Chapala Deb Roy, met with the Officer-in-Charge of Kailasahar Police Station, Sanjib Laskar, and demanded action against the miscreants responsible for the defacement and destruction of the flexes. The leaders also emphasized that the police should identify the culprits through CCTV footage from cameras installed in different parts of the town. Siddhartha Dutta stated, "The entire people of the town are upset over this, and the miscreants who did this mischief can be easily identified." The BJP delegation threatened to launch an agitational program if the police did not take appropriate action.
The police assured the BJP delegation that they would take necessary action and bring the culprits to justice. The incident has raised tensions in Kailasahar, and further developments are awaited as the investigation progresses. The defacing of the flexes with pictures of the Chief Minister and Social Welfare Minister has become a contentious issue, and the situation remains tense in the town.