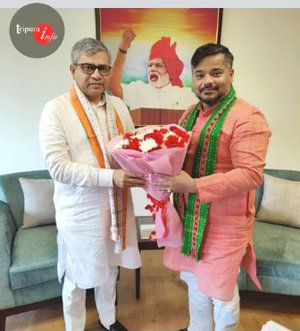 State Minister for Food, Transport, and Information Technology, Sushanta Chowdhury, met with Union Railway Minister Ashwini Vaishnav in the latter's official chamber in Delhi. Sushanta conveyed his best wishes to the Union Minister on the occasion of the Bengali New Year by offering him a bouquet as a token of goodwill, and the two ministers discussed various issues concerning the vital interests of the state.
During the meeting, Sushanta apprised Vaishnav of the overall situation in the state and requested for active intervention to resolve the outstanding problems. Vaishnav attentively listened to all the points raised by Sushanta and acknowledged the reasonableness of the issues brought up. He promised to look into the matters raised by Sushanta at the earliest and take appropriate action to resolve them.
The meeting between Sushanta Chowdhury and Ashwini Vaishnav highlights the efforts of the state minister to address state-specific issues and seek support from the Union Minister for their resolution. The outcome of the meeting and the actions taken by Vaishnav in response to the issues raised by Sushanta will be awaited with anticipation, as they could have significant implications for the state's development and progress in various sectors.