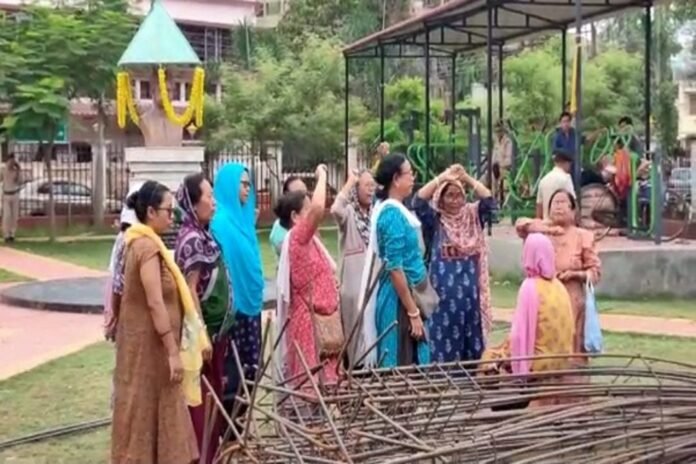 Residents of Krishnanagar area near Thakur Prabhat Chandra Roy Sarani in the capital city have staged a protest against the construction of a Ward Office in the locality on Wednesday morning. The dispute arose when the local club authorities demanded the construction of a new ward office in the area, but the residents strongly opposed the decision, asserting that the park should not be utilized for any construction purposes.
During a conversation with reporters, the agitated locals expressed their concerns, emphasizing that the park serves as an open space for children to play and for the elderly to relax. They also mentioned that various social programs are conducted in this open area.
A senior resident of the locality stated, "The Municipal Corporation has recently set up an open gym here and arranged seating facilities as well. This open space is used for a multitude of activities throughout the year, and therefore, we vehemently oppose any construction within this area." She further added, "This open space is of utmost necessity for the children."
The residents alleged that construction work for the new ward office building had already commenced in the park without any prior notification, which they deemed unacceptable. The West Agartala police station was alerted about the protest and dispatched officers to the location.
The locals have decided to approach senior authorities to ensure that no further construction takes place in the area. They hope that their concerns will be addressed and the park will continue to serve as a vital open space for the community.