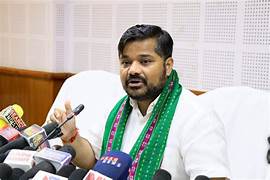 The Minister for Food, Civil Supplies, and Consumer Affairs in Tripura, Sushanta Choudhury, announced that the supply of pulses in ration shops would soon be resumed as the state is expecting a shipment of over 6000 MT of pulses within the next 15 to 20 days. This decision was made after a comprehensive review meeting with officials from the department. Choudhury mentioned that the state government has procured the pulses from a central government undertaking to ensure a seamless supply chain of essential commodities.
Additionally, Choudhury held a video conference with the District Magistrates and sub-divisional Magistrates of North and Unakoti Districts to discuss the current stock of rice. He expressed satisfaction with the available rice stock but emphasized the importance of maintaining adequate reserves for the monsoon season. The minister issued instructions to ensure that there is a sufficient stock of rice to meet the increased demand during the monsoon period.
The Tripura government has recently taken steps to enhance the availability of essential commodities through ration shops. In line with this decision, Chief Minister Biplab Kumar Deb initiated the supply of spices through ration shops. This move was aimed at providing consumers with easier access to essential cooking ingredients. Furthermore, the government plans to introduce mustered oil as an additional item available through ration shops, further diversifying the range of essential commodities provided to the public.
The resumption of pulses supply in ration shops will have a significant impact on the residents of Tripura. Ration shops serve as an essential lifeline for many households, particularly those from economically disadvantaged backgrounds. The availability of pulses at these shops ensures that families have access to a nutritious source of protein. By procuring the pulses from a central government undertaking, the state government can maintain a consistent supply and alleviate any concerns about scarcity or price fluctuations.
Ensuring an adequate stock of rice is crucial for Tripura, especially during the monsoon season when accessibility to remote areas might be challenging. By emphasizing the need for sufficient rice reserves, the government aims to prevent any potential shortage and guarantee that households continue to receive this staple food item.
The decision to expand the range of essential commodities available through ration shops is a commendable step by the Tripura government. By adding spices and mustered oil to the list, the government aims to meet the diverse needs of consumers and enhance their overall food security. This move reflects the government's commitment to supporting households in accessing essential items at affordable prices.
The resumption of pulses supply in Tripura's ration shops, facilitated by the impending arrival of over 6000 MT of pulses, is welcome news for residents. The state government's proactive approach to securing essential commodities ensures that households have access to a balanced and nutritious diet. Moreover, the emphasis on maintaining sufficient rice stock for the monsoon season demonstrates a commitment to mitigating any potential disruptions. By continually expanding the range of essential commodities available through ration shops, the government is taking positive steps towards improving the overall well-being and food security of the people of Tripura