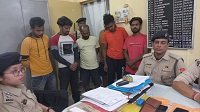 The East Agartala police station in Tripura made a major breakthrough when they arrested six individuals involved in a brown sugar smuggling operation. The arrests were carried out after the suspects were caught selling brown sugar, and a significant quantity of the illegal substance was seized from them. Sadar SDPO Ashish Dasgupta addressed the media and provided crucial details about the operation.
According to SDPO Dasgupta, the arrests took place in Chandrapur area based on a tip-off received by the police. The suspects were apprehended while in possession of brown sugar, and further investigations revealed that the seller's residence was located in the Aharliya area. All six arrested individuals were taken into custody at the East Agartala police station.
During the operation, the police discovered multiple "kowtahs" filled with brown sugar in the possession of the accused. The seized brown sugar has an estimated market value of approximately Rs 1 lakh, highlighting the substantial scale of the illegal drug trade being conducted by the arrested individuals.
The police also confiscated a vehicle used in the brown sugar smuggling activities. The vehicle, a TomTom, was used by the suspects to transport the illicit substance to various locations. The seizure of the vehicle further emphasizes the concerted efforts made by law enforcement agencies to disrupt and dismantle drug trafficking networks operating within the city.
SDPO Sadar confirmed that the arrested individuals will be presented in court the following day, and the police will seek a remand for further questioning. The objective is to detain the mastermind behind the drug racket in the city and gather additional information related to the smuggling operation. This approach highlights the determination of the authorities to thoroughly investigate and dismantle the entire drug network, including identifying and apprehending the key individuals responsible for orchestrating the illicit activities.
The successful operation carried out by the East Agartala police station is a significant blow to the drug trade in the area. The apprehension of the six individuals involved in the brown sugar smuggling racket demonstrates the dedication and effectiveness of law enforcement in combating drug-related crimes. The seizure of a substantial quantity of brown sugar underscores the urgency of addressing the drug problem and preventing its detrimental impact on society.
The authorities' commitment to disrupting the drug trade is further evident in their seizure of the vehicle used for smuggling purposes. By intercepting the means of transportation, law enforcement agencies aim to disrupt the supply chain and hinder the movement of illegal substances, thereby limiting their availability in the market.
The collaboration between various police units and the receipt of valuable information from the public through tip-offs have proven instrumental in the success of this operation. The police's prompt response and swift action in arresting the suspects red-handed reflect their vigilance and commitment to maintaining law and order in the community.
East Agartala police station's operation resulting in the arrest of six individuals involved in a brown sugar smuggling racket highlights the authorities' determination to combat drug-related crimes. The seizure of a significant quantity of brown sugar and the confiscation of the smuggling vehicle underscore the efficacy of law enforcement efforts in disrupting illicit activities. By seeking a remand for further questioning