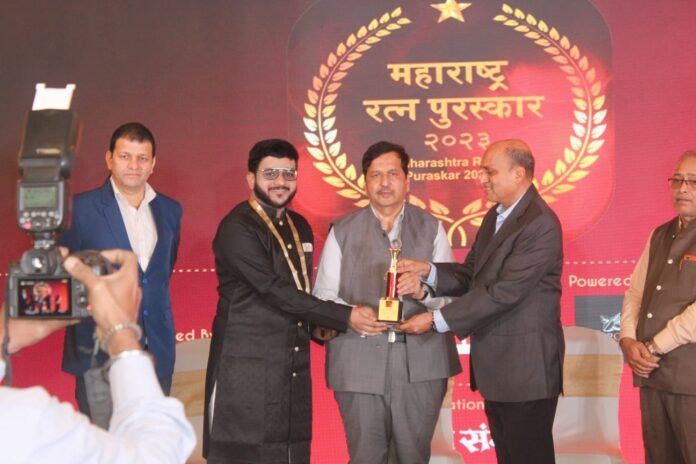 Mumbai, capital city of Maharashtra saw and witnessed the felicitation ceremony of The most prestigious and
esteemed award in state of Maharashtra, The Maharashtra Ratna Award 2023. Awarded for their unique and
remarkable accomplishments as well as their support of the state and the nation overall were Brands, Companies,
Entrepreneurs, and Individuals. This well-known awards ceremony honoured deserving personalities for their
achievements despite difficult conditions in their various fields, and it has brought honour to the nation and the
state.
Among the esteemed individuals who made the state proud. The honours were bestowed on the
contemporary Spiritual Guru, The beloved yogi of Maharashtra – Shriguru Majid Paithankar. In recognition
of his outstanding work in social work and spirituality, Shriguru was awarded as the Maharashtra Ratna.
The audience applauded him for his efforts to advance the community's spiritual well-being. He has spent his
entire life working relentlessly to share the principles of spirituality and self-awareness and assisting others in
achieving inner peace and happiness. As one of the most influential spiritual figures of our day, he has gained the
esteem and adoration of people from all walks of life.
Murbad town of Thane is where Shriguru Majid Paithankar was born and raised. He had an inclination toward
spirituality ever since he was kid. He used to speak from a different angle on religious scriptures and initiate
people into powerful yoga practises after coming to understand himself and the cosmos. The doctrine that
Shriguru imparts to his followers, who represent a diverse range of religious traditions, is that all religions are
routes to the supreme.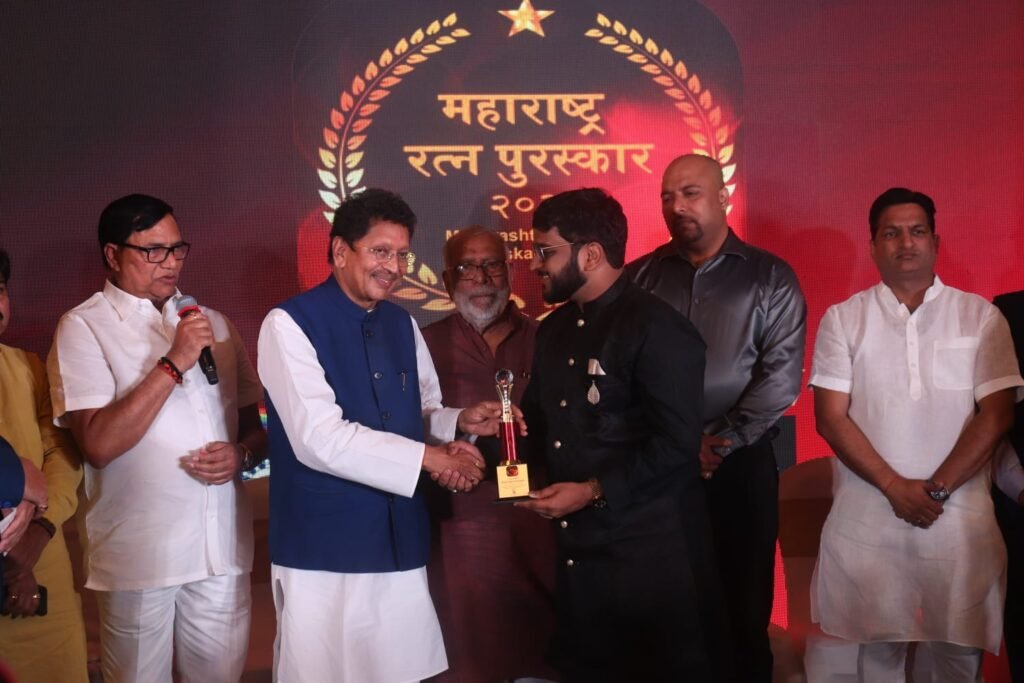 Because he spreads the actual message of religious unity and acceptance in people's hearts above the
boundaries of caste, faith, religion, and gender, he is viewed by his followers as a true representative of Islamic
culture. He is recognised as both a Siddha Yogi and an authentic representative of Islamic culture.
In his speech, Shriguru emphasised the importance of self-awareness and inner peace, and he urged everyone to
seek a deeper understanding of themselves and the world around them. He emphasised that happiness and
fulfilment can only be found through self-discovery and inner peace and encouraged the audience to continue their
spiritual journey towards self-realization.
In his address, Shriguru emphasised the value of inner peace and self-awareness, and he exhorted everyone to
pursue a better comprehension of both. He emphasised that inner peace and self-discovery are the only ways to
find happiness and fulfilment, and he urged the audience to continue their spiritual quest for self-realization.
Shriguru also discussed the value of giving back to the community and the necessity of doing good
deeds. He exhorted everyone to use their abilities, know-how, and resources to improve the world and
fulfil their personal mission of helping others.
Maharashtra Ratna Puruskar 2023 was graced by Mumbai City Guardian Minister, Hon'ble Deepak Kesarkar
the Cabinet Minister for Education; and Hon'ble Mumbai Suburban Guardian Minister, Mangal Prabhat
Lodha- who were the Afternoon Chief Guests. Additionally, the special guest was Ex Minister Hon'ble
Kripashankar Singh, Ex. Deputy Mayor Hon'ble Arun Dev, BJP leader Hon'ble Prakash Darekar, BJP
professional Cell President CA Hon'ble Shailesh Ghedia, BJP Maharashtra Secretary Adv. Akhilesh
Choubey and Atirek Sharma, State Vice President, MNS, Mumbai, Maharashtra (Mathadi). The evening was
no less star-studded with presences like – Sr Leader & Ex.MLC Hon'ble Ghanshyam Dube, MLA Hon'ble
Shankar Virkar, BJP Corporator Hon'ble Sudha Shambhunath Singh, BJP Corporator Hon'ble Akash Raj
Purohit, Hon'ble Dr Pramod Pandey President Hindi Academy, Hon'ble Dr Sanjay Pandey Maharashtra
President BJP, Uttar Bhartiya Mitch's, Hon'ble Pravin Rai MNS leader and film actress Isha Koppikar.
This proud moment of Maharashtra was witnessed by Shriguru's countless disciples waiting to get the Darshan of
Shriguru, the event also had the gracious family of Shriguru, Shriguru's Mother Hon'ble Smt. Fara Paithankar;
his father Hon'ble Shri Sajid Paithankar; his Grandfather Hon'ble Shri Mehboob Paithankar; his Uncle
Hon'ble Shri Sameer Paithankar; and his Brother Hon'ble Shri. Faisal Paithankar.
The Chief Minister of Maharashtra, Hon'ble Shri Eknath Sambhaji Shinde congratulated and stated in his
message that People who are doing good work in the society are honored on this occasion, and their
honor will inspire others to do good work in various fields.
The deputy chief minister of state Hon'ble Shri Devendra Fadnavis also appreciated and said this event
was inspiring, he congratulated all those social activists, entrepreneurs, those honoured with
Maharashtra Ratna in recognition of their work done for society.
Leading Maharashtrian politicians present at the ceremony announced "Maharashtra Books of
Records-Coming soon" during the event. where all of the other Maharashtra Ratna recipients, including Shriguru
Majid Paithankar, would be named.