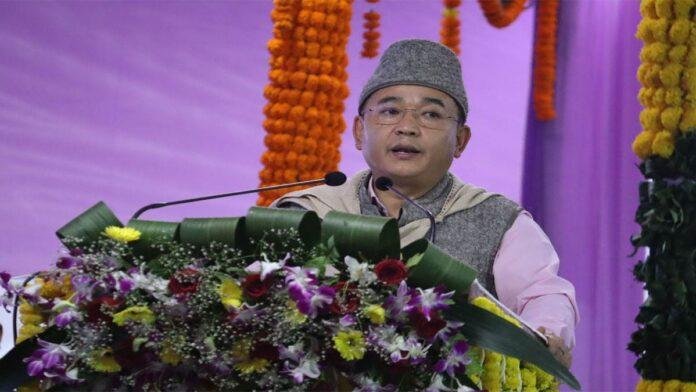 Ahead of the village and district panchayat elections, Sikkim Chief Minister PS Golay has announced the construction of 'Development of Guru Padmasambhava Buddhist Studies and Meditation Centre' at Dentam, West Sikkim. He made this announcement at the inaugural session of the three-day International TAMU (Gurung) Conference. Told that this research center will be built at Mangmu in Dentam at a cost of Rs 56 crore 86 lakh. He has also informed that in the upcoming Panchayat elections, all independent candidates will be there, in which the election symbol of any party will not be there.
Addressing the three-day International TAMU (Gurung) Conference, Chief Minister Prem Singh Tamang said that the Dentam of West Sikkim and the International Border Area of ​​Sikkim are in the complex. International border Chiva Bhanjyang is very near from here. Road construction work is going on for the development of the border area. After the development here, along with Nepal and Sikkim, the country of India will also benefit. The Chief Minister soon informed the Chief Secretary to the Government of Sikkim that he would visit the Chiva Bhanjyang area along with an officer of the Indian Army.
Speaking about the Sikkimese Gurung community, the Chief Minister said that the Gurung community of Sikkim was divided into two factions before the SKM government came to power. It is not right to have two factions for one's political advantage. The present government has given freedom for caste development. There has never been any interference from the Mintokgang (the official residence of the Chief Minister) for the formation of the caste committee. The Chief Minister informed that there is not a single representative from the Gurung caste in the Sikkim Legislative Assembly. Keeping this in mind, more than eight people have been appointed to various posts in the government. He appealed to give priority to the language of others along with their own. Chief Minister Gole suggested to discuss for caste development through this conference.