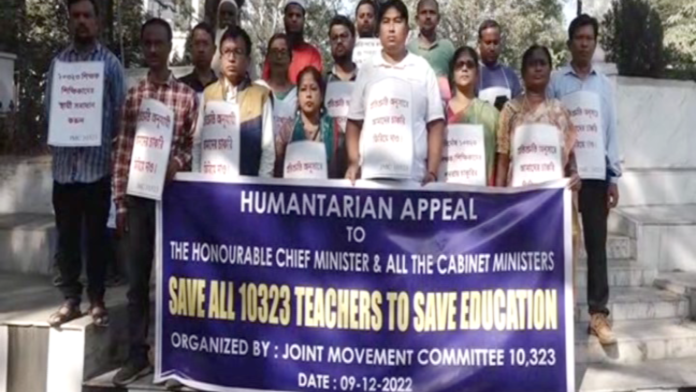 In a surprising turn of events, a group of terminated 10323 teachers has come together under new leadership, raising their voices to demand the restoration of their jobs. These teachers claim that the Tripura High Court had already ordered the restoration of their positions a year and a half ago. However, due to the lack of support from any advocate, they were unable to pursue the matter further.
During a press conference held on Monday, the group of terminated teachers expressed their frustration and disappointment over the prolonged inaction. Since then, their statements have gained significant support from the larger community of 10323 teachers, who fear that this may be their last opportunity to salvage their careers. Many have taken to social media to extend their solidarity with the cause.
The pressing question now looms: how will the government respond to this renewed claim? The terminated teachers have unequivocally declared their intention to file a contempt case against the government if their jobs are not restored or if no substantial action is taken within the next 15 days.
The plight of the 10323 teachers has been a longstanding issue in Tripura, and their struggle for justice and job security has garnered attention and sympathy from various quarters. Their determination to fight for their rights, even after years of legal battles, reflects the urgency and desperation among the terminated teachers.
While the government's stance on this matter remains unclear, it is essential to address the concerns raised by the terminated teachers. Their case highlights the need for a prompt and fair resolution to ensure the livelihoods of thousands of individuals who were once contributing to the education sector.
As the days tick by, the pressure on the government intensifies, and the terminated teachers and their supporters anxiously await a response. It remains to be seen whether the government will act swiftly to restore the jobs of these teachers or face the consequences of a potential contempt case.
The future of the 10323 teachers hangs in the balance, and their fight for justice continues, fueled by the hope that their voices will be heard and their livelihoods restored.