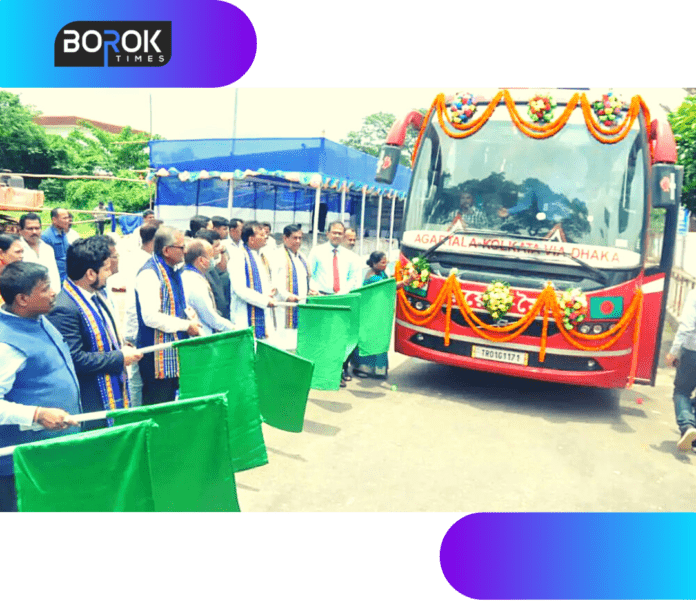 The Agartala-Kolkata bus service via Dhaka resumes on Friday after two years of gap due to the Covid-19 pandemic. A total of 28 passengers boarded the bus for Kolkata via Dhaka. The bus is expected to reach Kolkata in 19 hours and the service will be available six days a week.
The bus will cover a distance of around 500 km from Agartala to Kolkata via Dhaka in around 19 hours. A train journey between the two destinations via Guwahati takes around 35 hours, an official said. The bus facility on this route was suspended in March 2020 after the pandemic struck.
Tripura Transport and Tourism Minister Pranajit Singha Roy accompanied by Assistant High Commissioner of Bangladesh diplomatic mission in Agartala Arif Mohammad and Agartala Municipal Corporation Mayor Dipak Majumder flagged off the bus service, to be operated by the newly floated Royal Maitri International Bus Service.
The fare from Agartala to Kolkata via Dhaka will be Rs 2,300 per passenger, including traveling tax, while it will be Rs 1,000 from Tripura capital to Dhaka. "The direct bus service will be of help to people because of cancellations of long-distance trains due to flood and landslide in neighboring Assam and high demand for flights resulting in a sharp increase in airfare," the minister said.
Tripura Transport and Tourism Minister Pranajit Singha Roy said that the bus service would not only help the people of Tripura and other north-eastern states to go to Kolkata and other parts of India at a cheap fare but will also boost trade, tourism and strengthen the people to people contacts.
"In the near future, air, rail, and waterway connectivity would be launched between Tripura and various cities of Bangladesh. After the completion of the work of the under-construction railway line, we expect the railway service between Tripura and Bangladesh would start next year," Singha Roy said.
Tripura's Principal Secretary, Transport, Laihlia Darlong said that last month the External Affairs Ministry had given a no-objection to the Tripura, Assam, and Meghalaya governments to resume bus services with Bangladesh.
According to a bilateral agreement, the government-owned transport corporation and the Bangladesh Road Transport Corporation had started several bus services between Agartala, Shillong, Guwahati, Dhaka, and Kolkata but these were suspended due to various reasons, including the Covid-19 outbreak.