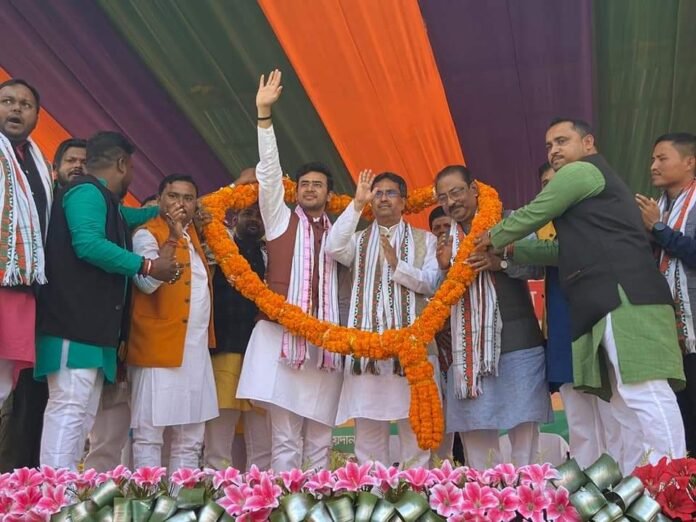 The Chief Minister Of Tripura Dr. Manik Saha appeal to young people and first-time voters to join the Bharatiya Janata Party (BJP) so they can benefit from all the rights available in a democratic nation under the leadership of Prime Minister Narendra Modi, putting aside the negative spirit spread by the Communist Party of India, Congress, and Trinamool Congress.
Prime Minister Narendra Modi frequently states that young people make up 60–65 percent of the population. The future of the Bharatiya Janata Party thus depends on the young generation in the coming days. Manik Saha urges people to join the BJP flag, many young people and first-time voters have not experienced the communist Party of India, its Left Front government of hatred and violence, the Congress party of troublemakers, and the Trinamool Congress.
The Chief Minister claimed that each of the following political groups was undermining the nation and taking away peoples' basic liberties. He said that the Bharatiya Janata Party is making continuous attempts to strengthen the brotherhood between the state's tribal and non-tribal populations.
In Tripura, the members of the saffron party's wings are actively working under the principle of "Seva He Sanghatan." they put in a lot of effort even during COVID-19 while other political parties stayed home. The Bharatiya Janata Party is a party that represents the interests of the people, and our first and main responsibility is to the development of society. There hasn't been a single incident of corruption in Tripura in the past four years.
According to the Chief Minister of Tripura, Dr. Manik Saha said social pension of people raised to Rs2000. The initiative attempted to provide regular people access to various advantages offered by the federal and provincial governments. Government officials created the "Amar Sarkar" website so that people may lodge their issues which shorten the distance between them and their party members. He stated that their main goal is to meet the need of people's requirement