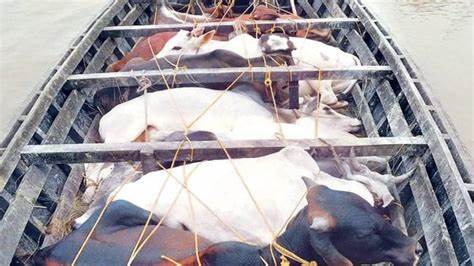 The international border area of Kailashahar in Unakoti district has become a den of cattle smugglers After West Bengal, Kailasahar in Tripura is also becoming one of the land of cow smuggling. Cows are often smuggled from Kailasahar to Bangladesh. Thousands of cows are being smuggled to Bangladesh through Kailasahar. Millions of rupees are being earned But who is this Kest Mandal of Tripura.
Tripura's Kailash is becoming the Indo-Bangla corridor of cow smuggling. Again a total of three cows including Mahadev's saree were recovered.
According to the details of the incident, Durganagar residents noticed the unnumbered cargo while bringing the cows from Samur Par area through Durganagar area of Kailash and arrested three people along with the vehicle. Later, information was given to Kailashahar police station. The police reached the spot and on being informed about the incident. Hindu Manch member Ajay Das reached the spot and the police of Kailashahar police station seized the vehicle and took it to Kailashahar police station. The Kailasahar police station has started an investigation in this matter.