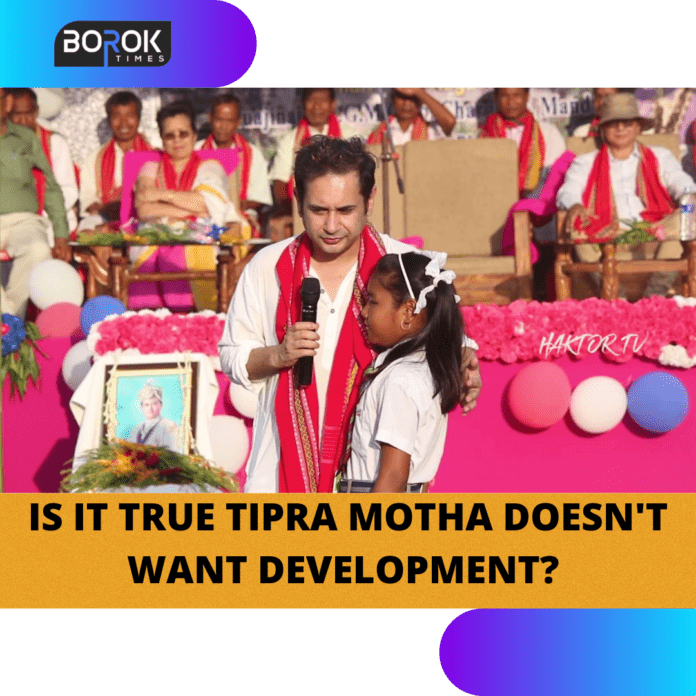 At the press conference held on Friday, TTADC CEM Purna Chandra Jamatia spoke of Triprasa's Constitutional right and freedom along with stated "TIPRA Motha never showed hesitation towards development but rather gave a fully-fledged encouragement towards development and submitted a seek to project funding to the central government of rupees 8cr for development; Sabka Saab Ka Saath, Sab ka Vikas and Jaal Jeevan Mission has no sign of implementation".

"The allegation done to Maharaja Pradyot and his party TIPRA Motha is being falsely accused," said CEM Purna Chandra Jamatia and in addition to that he mentioned that there is nowhere cooperation of the Central Government for development.

Deputy CEM Animesh Debbarma gave a clear statement "The accused reasons are baseless and have no significant truth behind them; such accusation will never lead to the winning of election". He questioned "What the State-Government is doing?" after spreading such erroneous furphy.

The clarification made by TIPRA Motha was "BJP Vice-President Patal Kanya Jamatia has taken the money of rupees 5cr from common working people, reason as to fight the case of NRC in the Supreme Court and after joining the BJP Party, she announced to withdraw the case, ultimately public got rigorous about their hard-earned money being scammed. Tripura Tribal Welfare Minister Rampada Jamatia during his camping orated about Maharaja and threatens him instead of rather talking about progressing society welfare".

"Maharaja Pradyot was given the term Mafia by BJP leaders" agonizingly remarked CEM.
EM Suhel Debbarma also showed great virtue and respect towards Maharaja and praised the sacrifice of Maharaja that he is doing for his people. He asserted that "It's an attempt to break the unity (Thansa) but alas, they failed in their mission, as Maharaja can never be bought by money". Besides more of included "Patal Kanya Jamatia has immensely bruised people's expectation as once upon a time her ideology was different from now and then. This led to people being rigorous and forceful against her leading to vexation nature."