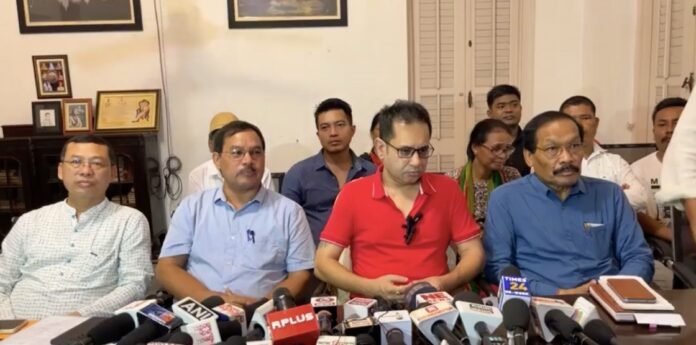 In a press conference held today at Rajbari, Bubagra Pradyot Manikya, a prominent leader of the Tiprasa community, announced a 12-hour bandh (shutdown) on September 30th, 2023, from 6 am to 6 pm. The bandh aims to rally support for the cause of Tiprasa's survival and secure justice for the community.
Addressing a crowd of fervent supporters, Bubagra emphasized that this movement transcends political lines, highlighting the urgency of safeguarding the future generations of Tiprasa. He urged the people to come together and send a resounding message to the Government of India, asserting the community's rightful demand for justice.
"This is not about politics; it's about the survival and existence of our next generation," Bubagra stated passionately. The pressing issues faced by the Tiprasa community have reached a critical juncture, demanding immediate attention and action from the authorities.
The bandh, set to paralyze regular activities for half a day, aims to draw attention to the longstanding grievances and challenges confronting the Tiprasa community. Bubagra's call for unity has resonated deeply among the residents, who view this as a pivotal moment in their struggle for justice.
The Tiprasa community, predominantly residing in the northeastern region of India, has faced various socio-political issues over the years. Bubagra Pradyot Manikya, a revered figure among the Tiprasa, has emerged as a leading voice, tirelessly advocating for their rights and pressing for much-needed reforms.
As the countdown to September 30th begins, the anticipation and determination among the Tiprasa community continue to grow. Bubagra's call for a united front underscores the significance of collective action in the pursuit of justice and the preservation of Tiprasa's cultural heritage.
The bandh on September 30th is poised to be a turning point in the Tiprasa community's fight for survival, as they stand united, resolute in their demand for justice and a brighter future for generations to come.