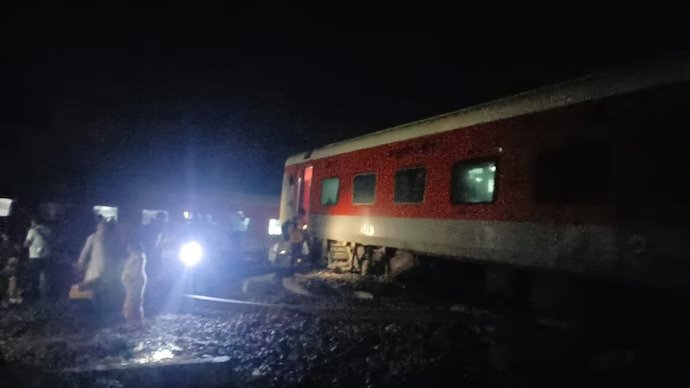 A devastating derailment of the North East Express near Raghunathpur railway station in Bihar's Buxar district has claimed four lives and left approximately 50 others injured. The incident occurred at 9:53 pm on Wednesday evening when six coaches of the train derailed.
The ill-fated North East Express, en route from Anand Vihar Terminal in Delhi to Kamakhya Junction in Assam's Guwahati, had departed from Delhi at 7:40 am for its nearly 33-hour journey.
Birendra Kumar, Chief Public Relations Officer (CPRO) of East Central Railway zone, reported that around 50 individuals were injured, as per information from the district administration. Critical cases have been referred to AIIMS Patna, while locals and district authorities have played a crucial role in rescue operations.
In the aftermath of the incident, at least 18 trains operating on the same route, including the Rajdhani Express connecting Delhi and Dibrugarh, have been diverted. Railway Minister Ashwini Vaishnaw affirmed that rescue efforts were underway with the cooperation of NDRF, SDRF, district administration, railway officials, and local residents.
Union Minister Ashwini Kumar Choubey, also the MP of Buxar, promptly responded to the incident. He assured that all necessary measures were being taken, including mobilizing medical teams and initiating rescue operations. Choubey emphasized that a united front of workers and officials was dedicated to the relief effort.
Bihar Deputy Chief Minister Tejashwi Yadav expressed his concern and urged officials to accelerate rescue efforts and ensure adequate medical provisions for the injured. He affirmed the Bihar government's active involvement in the relief, treatment, and support of the victims.
Assam Chief Minister's Office confirmed close monitoring of the situation and coordination with district authorities in Buxar and other relevant agencies. Birendra Kumar clarified that the derailment took place less than half an hour after the train's departure from Buxar station, en route to Ara.
Immediate relief measures were initiated, with ambulances and medical personnel dispatched to the site. A scratch rake, with a configuration similar to the original train, was dispatched from Patna to facilitate the transportation of passengers from the accident site.
Investigations into the cause of the derailment are underway as authorities work tirelessly to provide support to the affected passengers and their families.