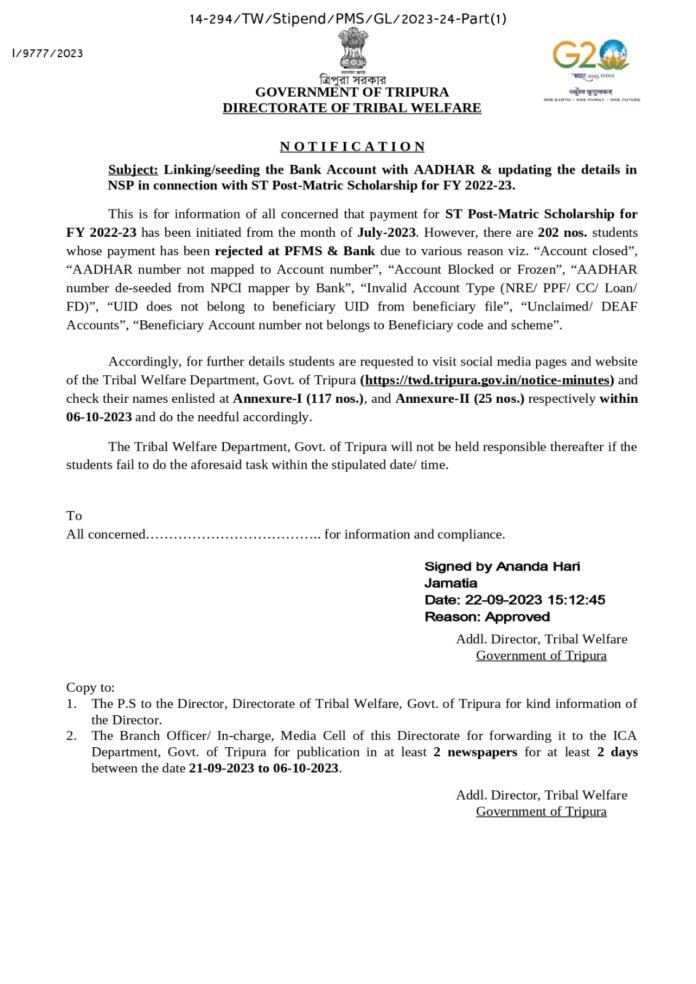 The Tribal Welfare Department of the Government of Tripura has announced a significant step towards streamlining the disbursement of Post-Matric Scholarships for the fiscal year 2022-23. The department is set to link and seed bank accounts with Aadhar, along with updating pertinent details in the National Scholarship Portal (NSP).
This innovative approach aims to enhance transparency and efficiency in the disbursement process, ensuring that eligible tribal students receive their scholarships in a timely manner. By integrating Aadhar, a unique identification system, with bank accounts, the government can securely transfer funds directly to students, reducing potential delays and bureaucratic hurdles.
Additionally, the updated details in the NSP will ensure accurate record-keeping and monitoring of scholarship recipients, further bolstering the effectiveness of the program. This digital transformation aligns with the government's commitment to harness technology for the betterment of its citizens, especially those belonging to tribal communities.
Officials from the Tribal Welfare Department have urged all eligible students to promptly link their bank accounts with Aadhar and update their information on the NSP. This collaborative effort between the government and students is poised to significantly expedite the scholarship distribution process, benefiting thousands of tribal students pursuing higher education.