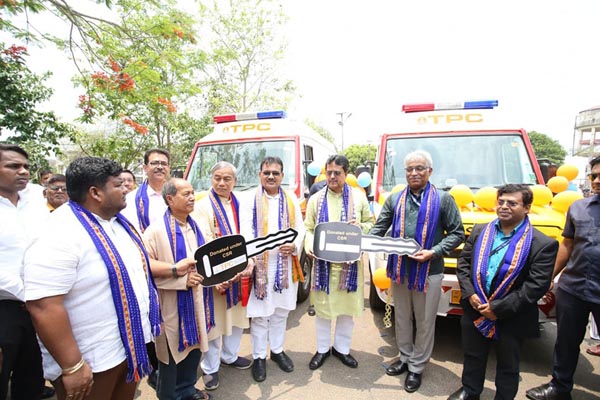 In a recent programme at the Gomati district hospital, Tripura Chief Minister Dr. Manik Saha emphasized that the development of the healthcare sector is a top priority of his government. He stated that his administration is taking various measures to ensure that patients feel comfortable and receive proper service in hospitals. The occasion was to mark the donation of two advanced life support ambulances to the hospital by the OTPC, which was flagged off by the Chief Minister, Finance Minister Pranajit Singha Roy, MLAs Ram Pada Jamatia, Abhishek Debroy, and Jitendra Majumder, and officials of the OTPC.
Speaking at the event, Dr. Saha praised the efforts of the OTPC in promoting the development of society, and appreciated the company's efforts to improve healthcare in the region. The Managing Director of OTPC, Sanil Namboodiripad, disclosed that the company had spent Rs. 60 lakhs on the two advanced life support ambulances under its CSR initiatives.
The donation of the ambulances is expected to greatly benefit the people of Gomati district. With the addition of the ambulances, patients will be able to receive more efficient and timely medical attention during emergencies. The development of the healthcare sector is a crucial component of the Tripura government's overall plan to promote social and economic growth in the state.
During his speech, Dr. Saha highlighted his government's commitment to developing various facilities and infrastructure to improve healthcare services in the region. The Chief Minister noted that the present state government is making every effort to ensure that patients have access to comfortable and effective healthcare services in hospitals.
The Tripura government's focus on healthcare development is part of its broader agenda of promoting social and economic development in the state. The administration has taken various measures to improve healthcare services, including building new hospitals and healthcare centers, improving existing facilities, and increasing the number of healthcare professionals in the state.
Moreover, Dr. Saha's government is committed to ensuring that healthcare services are accessible to all sections of society, particularly the underprivileged. The administration has implemented various initiatives to promote healthcare services in rural areas and remote regions, where access to medical care is often limited.
The donation of the ambulances is a significant step towards improving emergency medical services in Tripura. The Chief Minister's emphasis on the development of the healthcare sector reflects the government's commitment to improving the lives of its citizens. Dr. Saha's administration is focused on creating a model state that serves as an inspiration to other regions in the country.