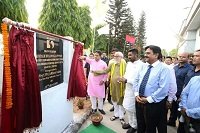 The Chief Minister of Tripura, Dr. Manik Saha, has announced plans to create an industrial force to ensure the safety of industrial plants in the state. During his visit to the Bodhjungnagar industrial area, Dr. Saha highlighted the importance of industrial safety as Tripura aims to become a gateway to Southeast Asia for investment opportunities.
Inaugurating the third unit of Abhisar Buildwell Private Limited, Dr. Saha expressed concerns over the past closure of factories in Bodhjungnagar industrial area due to local mafia violence. However, he emphasized that these industries play a crucial role in creating employment opportunities for the local youth.
With a focus on the development of industrial infrastructure, the Chief Minister stated that the government is actively considering the creation of an industrial force to ensure the safety and security of industrial plants in the state. This move aims to attract more investments from industrialists and promote industrial growth in Tripura.
The government's efforts to prioritize industrial safety are seen as a positive step towards boosting the state's industrial sector and attracting more investment. The proposed creation of an industrial force reflects the government's commitment to creating a favorable environment for industries to thrive in Tripura, positioning the state as a lucrative investment destination in the region.