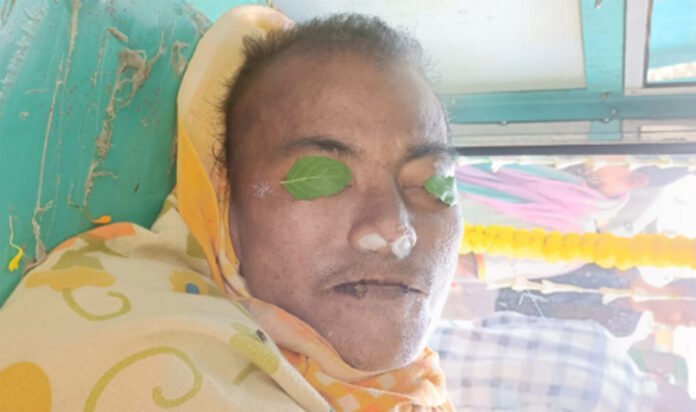 In a heartbreaking turn of events, Tripura's renowned cricket coach, Raja Debbarma, breathed his last on a fateful morning at the age of 54. Raja Debbarma, who had dedicated his life to shaping the careers of aspiring junior cricketers, passed away at 8:10 AM in the intensive care unit (ICU) of GBP Hospital. His demise came after a valiant battle against a long-standing cardiovascular disease, for which he had been undergoing treatment and was admitted to the hospital five days prior. The news of his untimely demise left the Krishna Nagar area engulfed in deep grief, with many people, especially his beloved junior cricket players, shedding tears of sorrow.
Raja Debbarma's journey in the world of cricket was one of talent, dedication, and selflessness. He himself had been a skilled cricket player, representing the state of Tripura in numerous national level tournaments. However, it was his passion for nurturing young talents that truly defined his legacy. Raja Debbarma was the founder-member of Colonel Chaumuhuni Cricket Coaching Centre, where he tirelessly mentored and coached junior players in the age group of 13-15. Under his guidance and care, many of these young cricketers went on to forge successful careers in the sport.
Towards the later stages of his career, Raja Debbarma was transferred to the prestigious Netaji Suhas Regional Coaching Centre (NSRCC), where he continued to shape the lives of aspiring cricketers with unwavering dedication. His coaching prowess and sincere approach became instrumental in the success stories of numerous budding talents. Through his patient guidance, technical expertise, and mentorship, Raja Debbarma left an indelible mark on Tripura's junior cricket landscape.
However, it is important to address an unfortunate incident that occurred on May 25, 2023, when a section of the media in the state erroneously published and broadcasted news of his demise. Regrettably, the error was never rectified, causing confusion and distress among the cricket fraternity. The subsequent revelation of his actual passing has left Tripura's junior cricket community shell-shocked, mourning the loss of their beloved coach.
The news of Raja Debbarma's death resonated deeply within the cricketing community, drawing expressions of shock and grief from senior cricketers and officials of the Tripura Cricket Association (TCA). They extended their heartfelt condolences to the bereaved family, recognizing the immense contributions Raja Debbarma made to the sport and the countless lives he impacted through his coaching.
Raja Debbarma will always be remembered for his commitment to the development of cricket in Tripura. His tireless efforts, selfless guidance, and unwavering support have left an enduring legacy in the hearts and minds of those he touched. Beyond honing cricketing skills, he instilled values of discipline, sportsmanship, and perseverance in his students, preparing them not just for the game but also for life's challenges.
As the cricketing fraternity mourns the loss of a remarkable coach, it is essential to reflect on the impact Raja Debbarma had on the lives of young cricketers and the wider sporting community in Tripura. His absence leaves a void that will be challenging to fill, but his teachings and memories will continue to inspire generations of cricketers to come.
In the midst of grief, it is important for the cricketing community to come together and celebrate the incredible contributions Raja Debbarma made during his illustrious career. His name will forever be etched in Tripura's cricketing history, a testament to his passion, dedication, and the lives he transformed through his coaching. The legacy of Raja Debbarma will continue to inspire and motivate young talents, ensuring that his impact on Tripura's cricketing landscape remains everlasting.