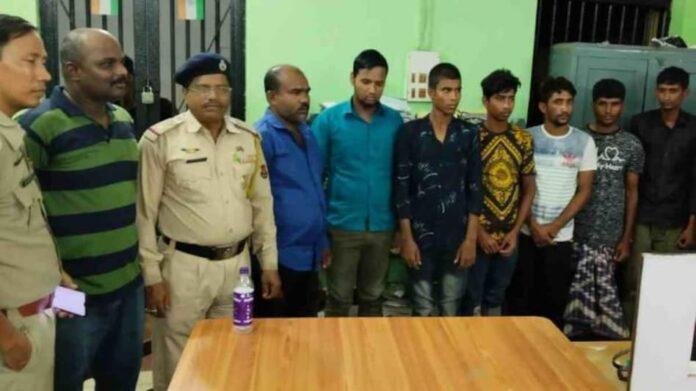 Within 48 hours of arresting 16 Bangladeshi nationals from a house in the Joynagar area by Battala outlet police, Tripura police have informed regarding the arrest of 11 more illegal Bangladeshi nationals in Agartala, late night on Thursday.
On Thursday the team of Kolkata-based eastern command intelligence team and Tripura police arrested 11 illegal Bangladeshi nationals from a house in Ramnagar area road no. 5 near Mukta Sanga club, around 11:30 Pm.
The police are interrogating the arrested illegal Bangladeshi citizens to find out their motto behind staying here. Also, police have seized mobile phones and cash from them, the seized cash includes both Indian and Bangladeshi currency notes.
Tripura shares an of the border of 856 km with Bangladesh, of which more than 94% has already been fenced with barbed wire. The increasing number of arrests of illegal Bangladeshi in Agartala, especially in the last 48 hours, has put doubts regarding the vigil at the 856 km border.

Recently a group a big group of Bangladeshi citizens were handed over to local police after they sneaked inside Indian territory at Simna, by a local MLA Biswaketu Debbarma. The Tuesday night incident was also similar but based on military intelligence which has been working on an input about the presence of illegal Bangladeshi nationals in Agartala city for the last month.