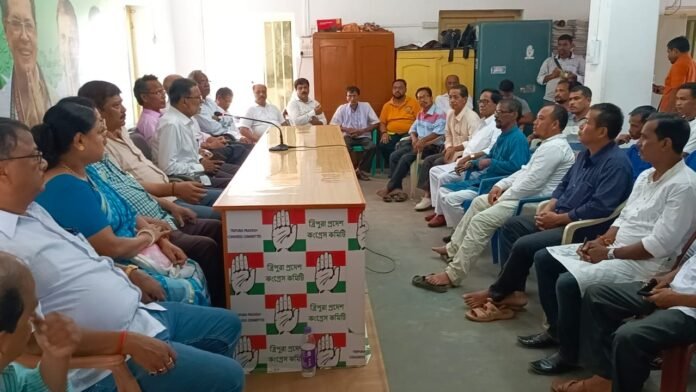 In commemoration of the first anniversary of the 'Bharat Jodo Yatra,' a nationwide campaign initiated by the Indian National Congress, Tripura Pradesh Congress has announced plans to celebrate the day throughout the state. The announcement was made during a press conference held by Pradesh Congress President Asish Kumar Saha on Tuesday.
The 'Bharat Jodo Yatra' holds historical significance as a unique initiative led by senior Congress leader Rahul Gandhi, who embarked on a journey covering over a thousand kilometers from Kanyakumari to Kashmir. This monumental march aimed to address pressing issues facing the nation.
Asish Kumar Saha elaborated on the plans for the one-year completion celebration of the 'Bharat Jodo Yatra' in Tripura. He stated, "Tripura Pradesh Congress will organize a one-hour 'Padyatra' (foot march) and a 'Sabha' (public meeting) in all nine organizational districts of the party in the state."
The primary objective of the 'Bharat Jodo Yatra,' initiated by Rahul Gandhi, was to draw attention to critical issues such as the soaring prices of essential commodities, unemployment, cronyism, divisive policies, and the national security concerns posed by Chinese aggression, among other grievances against the Modi-led BJP government.
Saha emphasized that the impact of the 'Bharat Jodo Yatra' resonated deeply across the nation, particularly among the youth. It also ignited renewed enthusiasm among party workers and leaders, breathing new life into the Congress movement.
Pradesh Congress President Asish Kumar Saha extended an invitation to the democracy-loving citizens of the state to participate in the 'Padyatra' scheduled for September 7th, marking the one-year milestone of this significant campaign.
In response to inquiries about the voting process in two state assembly constituencies, Saha expressed concern over the conduct of the ruling party. He accused them of turning the entire voting process into a farce and alleged the use of power and violence against opposition supporters in various areas. Reports even suggested that common voters were threatened with dire consequences if they did not cast their votes in favor of the BJP.
Despite Congress announcing a 'unity' alliance with the Left, there was a notable absence of the party's presence on the ground during the election. The party neither fielded individual candidates nor actively campaigned in support of Left candidates.
As the 'Bharat Jodo Yatra' anniversary approaches, Tripura Pradesh Congress remains committed to addressing key issues affecting the state and the nation, while continuing to mobilize citizens in their quest for positive change.