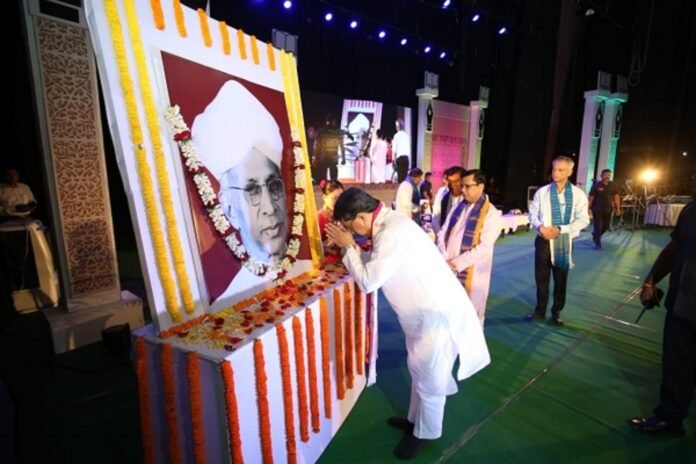 On the occasion of Teachers' Day, Chief Minister Dr. Manik Saha made a significant announcement, pledging to allocate 2 thousand crore rupees over the next five years towards improving the state's education infrastructure. Dr. Saha emphasized that the state government is actively working on several schemes aimed at enhancing the quality of education within the region, underlining their unwavering commitment to fostering better educational opportunities.
Addressing a gathering at the 62nd State-wise Teacher's Day program held at Theater No. 1 of Rabindra Centenary Bhavan, Dr. Saha, along with other dignitaries, paid tribute to the great philosopher Dr. Sarvapalli Radhakrishnan by placing a wreath at his portrait. In his speech, Dr. Saha stressed the pivotal role that teachers play in shaping the future. He asserted that every individual possesses the potential to become a teacher, capable of motivating and inspiring students across various subjects.
The Chief Minister emphasized the profound impact teachers have on students, leaving a lasting impression that guides them towards future success. Dr. Saha commended the talents of both boys and girls in the state, stating that they excel in various fields. He urged teachers to not only focus on traditional teaching methods but also incorporate modern education practices into their teaching approach.
Referring to Prime Minister Narendra Modi's vision, Dr. Saha highlighted the importance of knowledge, noting that those who possess knowledge will hold the world in their hands. He praised the Prime Minister's efforts in bringing forth the new National Education Policy, which aims to align the education system with contemporary needs. Dr. Saha affirmed that his state is actively implementing this policy to ensure the region's education system evolves accordingly.
In a bid to further elevate education in the state, Dr. Saha announced plans to establish model schools in each block under the PM Shri scheme. A budget allocation of Rs 50 crore for this purpose has been earmarked in the financial year 2023-24. Additionally, a web application portal has been created to facilitate online admission applications for economically disadvantaged and marginalized students, ensuring greater accessibility to education for all.
Chief Minister Dr. Manik Saha's address on Teachers' Day underscored the government's strong commitment to enhancing education infrastructure, promoting quality education, and acknowledging the invaluable role of teachers in shaping the future of the state's youth. The initiatives outlined demonstrate a dedication to ensuring that every student in the state has access to a high-quality education that prepares them for success in the modern world.