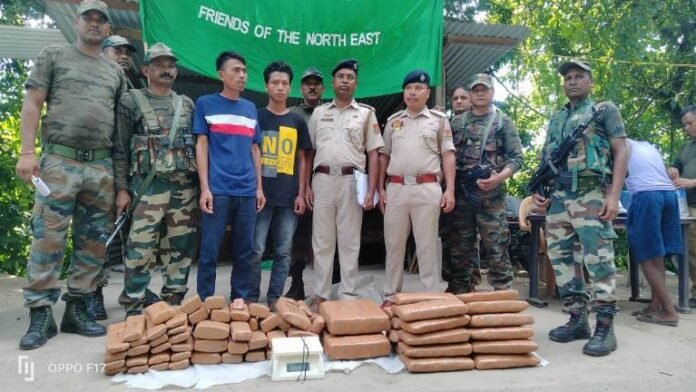 In a significant operation, security forces in Tripura have successfully apprehended two drug peddlers and seized a whopping 103 kilograms of Marijuana (Ganja) with an estimated street value of Rs. 41 lacks. The operation was carried out by the Radhanagar Battalion of Agartala sector Assam Rifles, operating under the aegis of Inspector General Assam Rifles (East).
Acting on credible intelligence, a joint operation was launched by the Radhanagar Battalion in collaboration with the staff of the Ambassa police station. The collaborative team swiftly moved into action, leading to the arrest of two individuals involved in the illegal drug trade. Along with the arrests, the security forces managed to confiscate the massive haul of Marijuana, weighing 103 kilograms and also impounded a light motor vehicle used for transportation purposes.
The apprehended individuals, along with the seized contraband, were handed over to the Ambassa police station for further investigation and legal proceedings. This successful operation highlights the commitment of Assam Rifles towards creating a drug-free society and ensuring the safety and well-being of the citizens.
The seizure of such a substantial quantity of Marijuana is a major blow to the drug trafficking network in the region. The market value of the seized Ganja is estimated to be around Rs. 41 lacks, indicating the significant profits associated with the illicit drug trade.
This successful operation by the security forces serves as a stern warning to drug traffickers, emphasizing that Tripura will not tolerate illegal activities that endanger the lives and future of its citizens. The state remains steadfast in its mission to combat drug-related crimes and maintain law and order.
Authorities are expected to conduct a thorough investigation into the matter, uncovering potential links and networks associated with the detained individuals. The crackdown on drug peddlers and the subsequent dismantling of their operations will play a crucial role in safeguarding the youth and communities of Tripura from the harmful consequences of drug abuse.