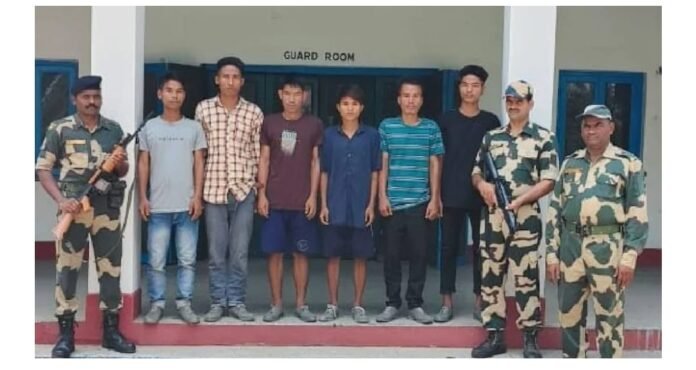 Agartala, Tripura – In a major breakthrough for security forces, six members of the National Liberation Front of Tripura (NLFT), a banned militant outfit, voluntarily surrendered on Sunday. The surrender of these rebels is being hailed as a significant blow to the group's operations in the region.
The surrendered NLFT rebels, whose identities have not been disclosed for security reasons, turned themselves in to the authorities, signaling their willingness to abandon violence and rejoin mainstream society. This development is seen as a positive step towards restoring peace and stability in the region, which has long been plagued by insurgent activities.
The NLFT, founded in 1989 with the aim of establishing an independent Tripura, has been responsible for numerous acts of violence and insurgency in the state. The group has been involved in activities such as extortion, kidnappings, and attacks on security forces, causing fear and instability among the local population.
The surrender of these six rebels is seen as a result of sustained efforts by the security forces and the state government to tackle insurgency in Tripura. These efforts include intelligence-driven operations, community outreach programs, and rehabilitation initiatives aimed at facilitating the reintegration of former militants into society.
Speaking on the occasion, senior officials lauded the courage of the surrendered rebels and emphasized the government's commitment to providing them with an opportunity to rebuild their lives. Rehabilitation programs, including skill development training and counseling, will be offered to assist their reintegration process.
The surrender of these NLFT rebels not only weakens the group's operational capabilities but also sends a strong message to other militants that the path of violence and insurgency offers no sustainable solution. It is hoped that this development will encourage more members of the group to abandon their armed struggle and contribute to the progress and development of Tripura.
The state government, along with security agencies, has reiterated its determination to maintain law and order and create an environment conducive to growth and prosperity in Tripura. Efforts will continue to engage with other rebel groups and encourage them to choose the path of peace and dialogue.
While this surrender marks a significant step towards a more peaceful Tripura, authorities remain vigilant in their efforts to maintain stability and prevent any resurgence of militant activities. The focus is now on utilizing the surrendered rebels' knowledge to gather intelligence and dismantle the remaining infrastructure of the NLFT.
With the surrender of these six NLFT rebels, Tripura is witnessing a ray of hope for a brighter future. The commitment to peacebuilding, coupled with sustained efforts to address the root causes of insurgency, will be instrumental in ensuring long-lasting peace and progress in the region.