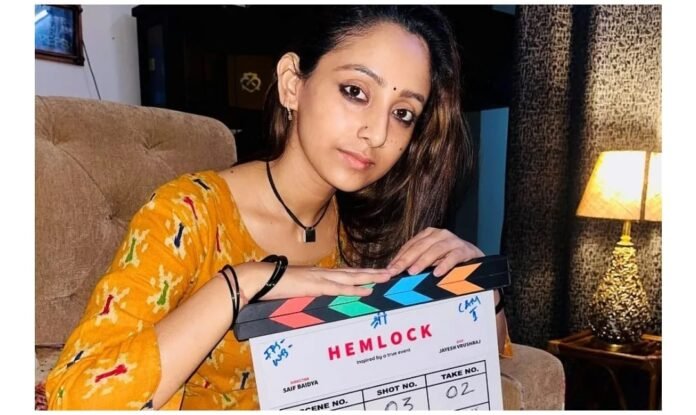 Agartala's rising talent, Debadrita Dutta, fondly known as Piku, is poised to make her mark in the world of Hindi cinema with her upcoming short film, 'Hemlock.' As she takes her first steps into Bollywood, the young actress from Tripura is generating considerable buzz and excitement among both industry insiders and her growing fanbase.
The short film 'Hemlock' serves as Debadrita Dutta's entry point into the vibrant realm of Hindi cinema, where she hopes to showcase her acting prowess and captivate audiences with her talent. Although relatively new to the silver screen, Piku's dedication and passion for her craft have already garnered attention in regional cinema, making her an emerging star to watch out for.
Stepping outside the confines of regional cinema, Debadrita Dutta's Bollywood debut promises to be a compelling journey filled with opportunities for growth and artistic exploration. 'Hemlock' is an eagerly awaited project that showcases her versatility as an actor, while also providing a platform to connect with a wider audience.
In this short film, Debadrita Dutta brings to life a character that showcases her range and ability to portray complex emotions. With a captivating storyline and powerful performances, 'Hemlock' aims to leave a lasting impact on viewers, leaving them eagerly anticipating Debadrita's future projects and the mark she is set to make on the Hindi film industry.
Supported by a talented cast and crew, 'Hemlock' serves as a testament to the collaborative spirit of the film industry. The project not only provides a stepping stone for Debadrita Dutta but also presents an opportunity for the entire team to showcase their creative vision and storytelling prowess.
As anticipation continues to build around 'Hemlock,' Debadrita Dutta's fans eagerly await the release of the short film, excited to witness her transition to Bollywood and witness her talent on the big screen. With her natural charm, dedication, and the unique perspectives she brings from her roots in Tripura, Piku is poised to carve a niche for herself in the ever-evolving world of Hindi cinema.
Debadrita Dutta's Bollywood debut with 'Hemlock' is a testament to the diverse talent emerging from different parts of India, adding new dimensions and fresh perspectives to the industry. As she embarks on this exciting chapter of her career, Debadrita Dutta's journey is one to keep a close eye on, as she brings her unique essence to the silver screen and establishes herself as a name to reckon with in the Hindi film industry.