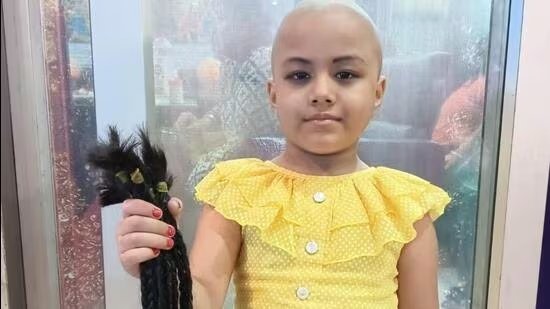 Five-year-old Anusuya Ghosh from Tripura has selflessly donated her long locks to a 50-year-old cancer patient. Anusuya, a KG II student at Shishu Bihar Higher Secondary School in Agartala, exemplifies compassion at such a tender age.
The inspiration behind this noble act came from Anusuya's mother, Seema Chakma, who is not only a dedicated school teacher at Mahatma Gandhi Memorial Higher Secondary but also serves as a National Service Scheme (NSS) program officer. Learning about a courageous cancer patient undergoing treatment at the Nagpur Cancer Institute through a Bangalore-based NGO, Seema and her husband, Animesh Ghosh, decided to take action.
"We decided to donate our daughter's long hair for her hair transplantation. We would be grateful if her hair is used for the cancer patient's hair transplantation," Seema shared, her voice filled with hope and gratitude.
When asked about Anusuya's willingness to participate, Seema affirmed that the young girl was enthusiastic about contributing to the cause. The family, deeply committed to various forms of social service, saw this as an opportunity to make a meaningful impact.
Seema and Animesh Ghosh are actively engaged in several social service organizations, and their altruistic endeavors have now extended to their young daughter. This act of kindness from Anusuya not only showcases her compassionate nature but also serves as a reminder of the power of collective goodwill.