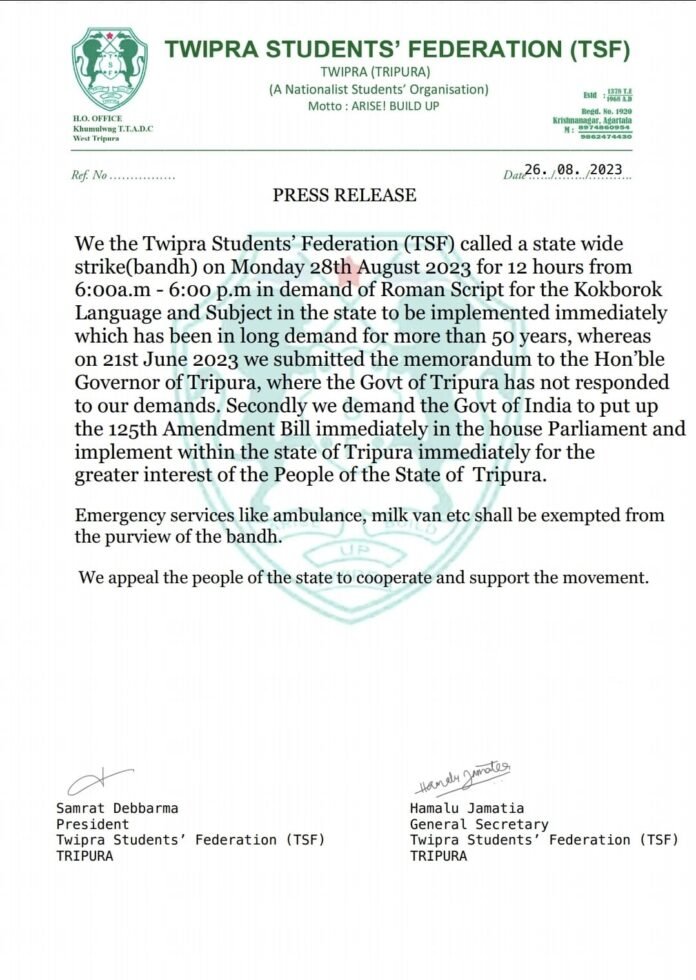 (TSF) has called for a 12-hour strike, or "bandh," in the state today, demanding immediate reforms for the Kokborok language and swift action on the 125th Amendment Bill in the parliament.
General Secretary's Call to Action: Addressing the media earlier, Hamalu Jamatia, the General Secretary of the Federation, outlined the demands that led to the bandh. The TSF is advocating for the implementation of the Roman script for the Kokborok language within the education system. The aim is to ensure that the younger generation can access and understand their native language effectively.
Furthermore, the TSF is urging the prompt submission of the 125th Amendment Bill in parliament. This bill holds significance in safeguarding the cultural and linguistic rights of various communities across the nation. The Federation is calling for immediate action to address these concerns and maintain a pluralistic and diverse society.
Bandh Details: The bandh, which began at 6:00 a.m., is scheduled to continue until 6:00 p.m. It has impacted various aspects of daily life, including transportation, markets, and government offices. The TSF has requested the cooperation of citizens during this time of protest, emphasizing the importance of addressing the linguistic and constitutional issues at hand.
Government Response: The state government has acknowledged the concerns raised by the TSF. In a brief statement, a spokesperson mentioned that discussions are underway to address the demands in a constructive manner. The government also urged citizens to maintain peace and harmony during the bandh period.
Impact on Daily Life: As the bandh unfolds, residents have experienced disruptions in their daily routines. Public transportation has been affected, leading to limited movement across the state. Marketplaces and commercial establishments remain closed, with citizens choosing to stay indoors to avoid inconveniences.
Looking Ahead: The TSF's bandh reflects the growing need for linguistic and cultural preservation in the face of evolving societal norms. With both the Kokborok language reform and the 125th Amendment Bill serving as catalysts for change, the citizens of Tripura are keenly watching for progress in response to these pressing demands.
As the bandh continues throughout the day, discussions between the TSF and state authorities are anticipated to yield potential solutions that cater to the linguistic and cultural aspirations of the people while maintaining the unity and integrity of the nation.