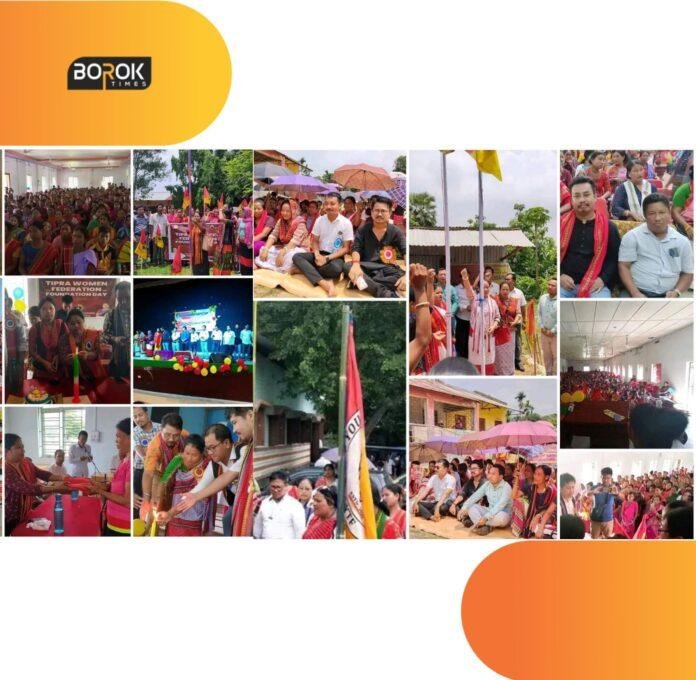 Tipra Women's Federation (TWF) celebrated its first foundation day today, 6 June 2022, Monday.
The leaders of the Tipra Motha attended several programs at different constituencies like Kalashi under 38 Jolaibari, 17 ST Golaghati, Takarjala, Charilam, Bachai Bari under 26 Ashram Bari, and many other places and encouraged the TWF members to be strong and come forward in the struggle for rights.
The Tipra Women's Federation was formed by Bubagra Pradyot Manikya last year to strengthen the unity among women in the state. Reportedly, Bubagra calls TWF "Buma Bodol" which means "Group of Mothers" as he respects every Tiprasa woman as his mother and that the movement for Greater Tipraland would not succeed without Women, youth, and elder's support.
Bubagra also wished them on their first foundation day, "Wishing my Tipra Women's Federation the best on its 1st foundation day. You are the source of strength and hope in our Dopha. My best wishes to all of you," said Bubagra.
Kumulwng CEM Purna Chandra Jamatia also wished TWF on its First Foundation Day and urged them to grow their participation in Greater Tipraland Movement.
"My best wish to TWF on the First Foundation Day. Women are half of the Dopha, and History has witnessed that if women unite and fight for the nation, it will never be impossible and no nation will be liberated without the participation of women. So, my request would be to increase women's participation in the struggle for Greater Tipraland." posted CEM Purna Chandra on social media.