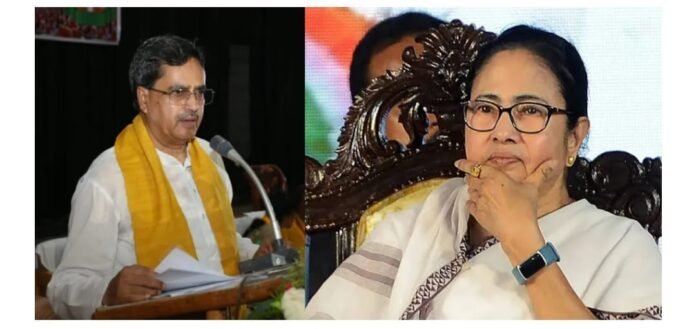 Introduction:
In a recent invitation that caught many by surprise, the Chief Minister of Tripura, Manik Saha, extended an open invitation to Trinamool Congress (TMC) Supremo Mamata Banerjee, urging her to visit the state of Tripura to gain a firsthand understanding of the essence of democracy. This unexpected gesture has sparked curiosity and raised eyebrows among political circles and the public alike. As Tripura continues to make strides in its democratic journey, the Chief Minister's invitation highlights the unique political landscape of the state and offers an opportunity for deeper insights into the principles that underpin a vibrant democracy.
Tripura's Democratic Progress:
Tripura, located in northeastern India, has been witnessing significant political developments in recent years. The state, once dominated by a single political party, has experienced a remarkable transition, leading to the formation of a multi-party political system. This shift has resulted in diverse political ideologies coexisting and competing, paving the way for a healthy democratic environment. Chief Minister Manik Saha's invitation to Mamata Banerjee signifies Tripura's growing confidence in its democratic institutions and a desire to share its experiences with others.
Pluralism and Inclusivity:
Tripura's democratic journey has been characterized by its commitment to pluralism and inclusivity. The state's diverse population, comprising various ethnic and linguistic communities, has played a pivotal role in shaping its political landscape. Tripura's success in accommodating and empowering these diverse groups has been widely acclaimed, serving as a testament to the power of democracy in fostering harmony and social cohesion.
Electoral Dynamics:
The recent political shifts in Tripura have been marked by fiercely contested elections, resulting in a more competitive electoral landscape. With multiple parties vying for power, the democratic process has gained momentum, allowing citizens to exercise their voting rights freely. The Chief Minister's invitation to Mamata Banerjee reflects the state's confidence in its electoral system and a willingness to showcase the fair and transparent conduct of elections.
Good Governance and Development:
Under the leadership of Chief Minister Manik Saha, Tripura has witnessed significant strides in good governance and development. The state government's focus on infrastructure, education, healthcare, and employment generation has garnered appreciation from both national and international observers. By extending an invitation to Mamata Banerjee, the Chief Minister aims to highlight the positive outcomes of effective governance and encourage an exchange of ideas on policy implementation.
Conclusion:
Chief Minister Manik Saha's invitation to Mamata Banerjee to visit Tripura serves as an invitation to witness firsthand the remarkable progress the state has made in its democratic journey. Tripura's transition to a multi-party system, emphasis on inclusivity and pluralism, competitive electoral dynamics, and focus on good governance are all testaments to the vibrancy of democracy in the region. As Mamata Banerjee considers the invitation, her potential visit to Tripura could offer valuable insights into the diverse facets of democracy and foster a deeper understanding of its principles in action.