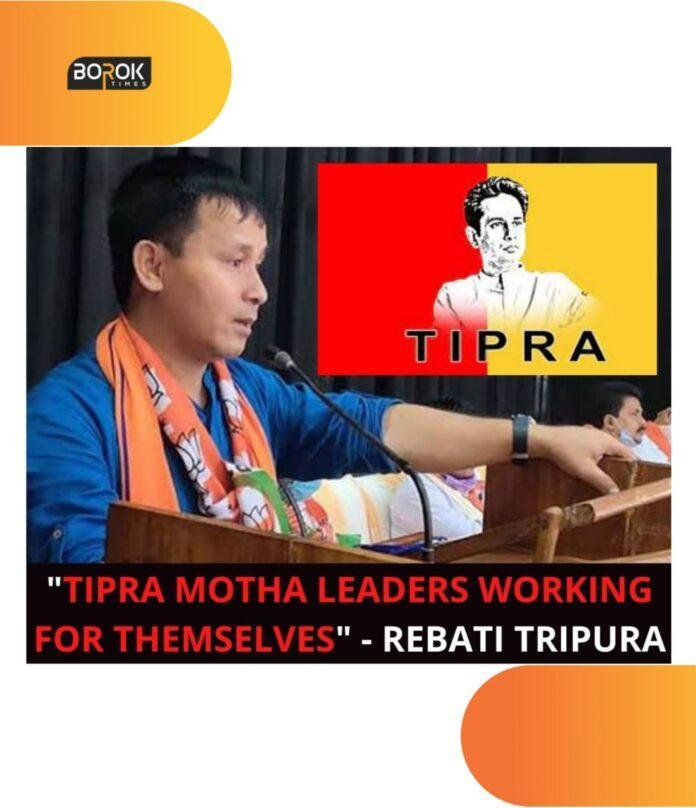 Some serious allegations were made by MP Rebati Tripura on Tripura Indigenous Progressive Regional Alliance (TIPRA) Motha governance in TTAADC areas. He alleged that the leaders and MDCs of the TIPRA Motha are not working for the people but their selves.
After the devastating defeat of the BJP in TTAADC by the TIPRA Motha, the two parties seem to have emerged as a bone of contention in Tripura. The recent comment of an MP of the BJP Rebati Tripura over the TIPRA Motha leaders and MDCs have created an argumentative scenario between the BJP and TIPRA Motha. According to the MP, there are strong possibilities of the present TTAADC council getting dissolved due to infighting within the TIPRA Motha party.
"The elected representatives of TIPRA Motha are working for themselves instead of working for the people. This attitude of TIPRA Motha leaders and MDCs is causing themselves and people in search of a strong alternative to start supporting the BJP in TTAADC areas," said Tripura.
"Some serious allegations of irregularities about the tendering processes have been labeled against the present TTAADC administration. The money meant for public welfare is not being spent properly. All these things have unmasked the real face of TIPRA before the public. People have understood the truth behind Greater Tipraland demand.," said Rebati Tripura.
The rumors about some TIPRA Motha elected representatives switching to BJP were also seen in the past few days, to which TIPRA Motha Leader Bubagra Pradyot Manikya and Khumulwng CEM Purna Chandra Jamatia denied and alleged that it's fake news spread by some BJP leaders.
Declining all the charges of MP Rebati Tripura, Chairman TTAADC Jagadish also said that the statement and allegations made by him are baseless and demanded the BJP party to explain the change in Tripura Chief Minister in this crucial time before the general election.
"His statement is full of baseless information. And, on the issue of the TTAADC council collapsing, I would say the BJP should come out clean on the recent political change of guard in the state. People of the state have no idea what prompted the party's high command to take such drastic action. The BJP is on the verge of collapse, we are not," said Jagadish Debbarma.
He also said that TTAADC has been deprived by the parties in power-both BJP and the Left parties, and the budget for the ADC is less than the department's annual allocation made in the state budget.