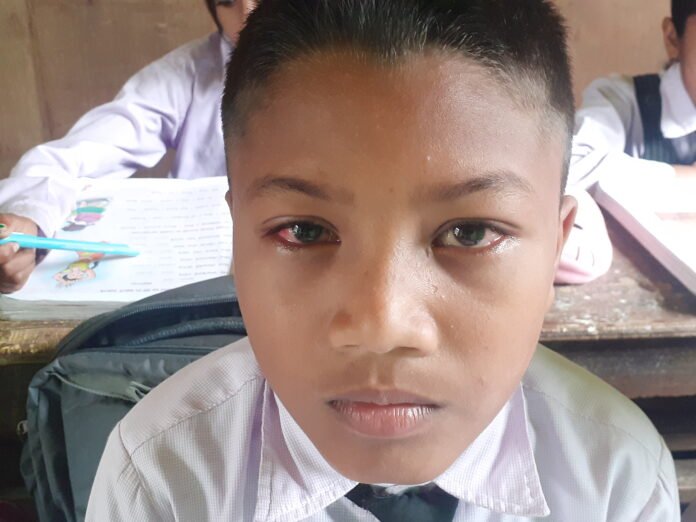 Guwahati : Tinsukia district in upper Assam has been hit by viral conjunctivitis outbreak with several school students reportedly affected by the infection. 
Tinsukia District Joint Director of Health Services Office said on Thursday that it is not a matter of fear, but precautions must be taken and if anyone is infected he or she should go to an isolated place at home. Also take advice from eye specialists after being infected and hygiene will help to recover faster.
" All necessary steps have been taken up by the health department here . " The office said .
It is to be mentioned that Eye flu or viral conjunctivitis, is an infection that affects the eyes. This eye problem arises from viruses and can make eyes red, itchy, and watery.
Meanwhile, many Lower Primary Schools, High Schools, Higher Secondary Schools and College students, teachers, faculties and office staff are reported to be infected from the Eye Flu.
The government and private hospital sources, medicines stores , private medical practitioners and eye specialists sources said that such cases are coming but the number is still not very high.
Sources said that eye specialists are not available in garden hospitals.
Gokhle Deori , Director of Managing Committee, New Era English Academy said a few students were infected in the school from various classes. "So I advise all students and staff that if anyone is infected from the eye flu, he or she should stay at home and consult with a doctor and take medicine".
Several other school heads also said that they noticed that some students and staff were also suffering from the infection. So requested all the students and staff, if someone infected from this virus must stay at home and consult with an eye specialist.
"So I am already advising all the faculties, staff and students, if someone is infected they should stay in home isolation and take doctor advice respectively" said a school head .
On the other hand, a parent of a student from the Little Children School said that many students were infected.
"Even my wards got infected and it transmitted to me. I have come to know that many other parents were also infected by their wards." added the parent.
The parents also said that the principals of many schools also circulated a notice through WhatsApp mobile application and i.e. "Dear Teachers, Parents and the Students, Just to remind you all that most of our students are getting eye flu virus. Therefore I request all those students who are suffering from eye flu can remain at home and look after yourself well."
Reports of eye flu in several other districts of the state is also highlighted in mainstream media of the state. In neighboring Arunachal Pradesh also it broke out in the last month and schools were closed.
However the Assam government's health ministry has yet to make a formal statement on the eye flu which is rapidly taking a shape of epidemic in the state.