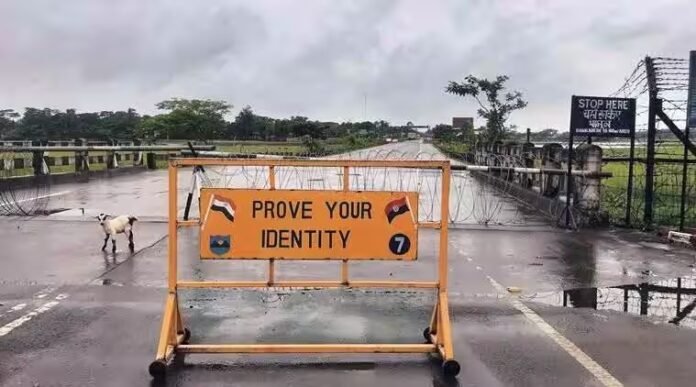 In a significant operation, Agartala city police apprehended a total of 12 individuals from both Bangladesh and Tripura for their involvement in a fraudulent PRTC (Permanent Resident of Tripura Certificate) and Aadhaar card scam. The police, in a press release, highlighted their commitment to a zero-tolerance stance against illegal immigrants.
Acting on undisclosed information, Tripura Police exposed a sprawling network of illegal immigrants and document forgery. Four Bangladeshi nationals were among those arrested: Mst Kolsoma Begum, Mst Riya Mani, Mst Sadia Mani, and Ebadur Rahaman, alias Jiban Chowdhury. Additionally, five Indians, including Sudhan Sarkar, were detained for their roles in producing counterfeit Aadhaar cards to assist illegal migrants.
Sudhan Sarkar, hailing from Amtali, West Tripura, was apprehended for providing shelter to the Bangladesh nationals. The police also arrested four more individuals, identified as Samiran Paul, Mithun Das, Biplab Roy, and Subhankar Sur, who were actively involved in generating fake documents for illegal migrants. These arrests have unveiled an intricate web of interstate and international connections, shedding light on the depth of the operation.
The police have registered specific cases against the accused under various sections of the Indian Penal Code and Acts related to foreign nationals and illegal entry. Investigations are ongoing to dismantle the entire chain of operations.
Authorities emphasized that the crackdown reflects their unwavering commitment to curbing illegal immigration and ensuring the security and integrity of the region. This operation serves as a stern warning to those involved in such illicit activities, while the police remain steadfast in their efforts to prevent illegal immigration both within Tripura and to other states of the country.
As the investigation continues, law enforcement agencies are determined to root out the menace of fake documents and uphold the sanctity of the law.