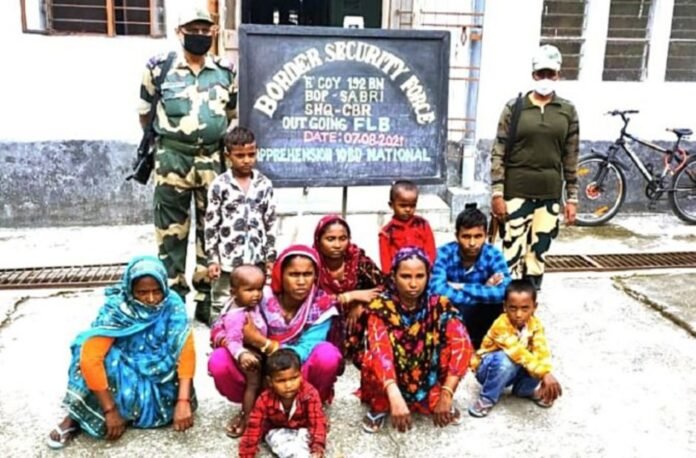 In a significant operation to counter the illegal entry of Rohingyas and Bangladeshis into India, the Assam Police has arrested eight individuals, including two Bangladeshi nationals, for their involvement in arranging fake citizenship documents. This illicit network, which was helping illegal immigrants enter India through the state of Tripura, has raised concerns about national security and the potential to disrupt the country's unity and integrity.
The crackdown was initiated following directives from Assam Chief Minister Himanta Biswa Sarma, who emphasized the need to take action against linkmen and touts aiding the illegal entry of Rohingyas into India. To carry out the operation effectively, five police teams were dispatched to various bordering districts of Tripura, each headed by officers at the additional or deputy superintendent of police level.
According to STF Deputy Inspector General Partha Sarathi Mahanta, the arrested individuals, acting as touts, facilitated the procurement of fake identity and travel documents for Rohingyas and Bangladeshis. These fraudulent documents were used to present them as Indian citizens, enabling them to board trains headed for major cities like Kolkata, Delhi, Hyderabad, and Bengaluru from locations in Dharmanagar and Kumarghat in Tripura, as well as Badarpur in Assam.
During the operation, the police recovered fake identity documents such as Aadhaar and PAN cards, as well as foreign currencies, from the arrested individuals. The ongoing investigation aims to dismantle the entire illegal network, with future operations planned to target other regions in the country where similar touts are assisting Rohingyas to relocate.
Chief Minister Himanta Biswa Sarma expressed concern that Assam was being used as a corridor by Rohingyas to travel to Delhi or Kashmir, facilitated by brokers from Tripura. He emphasized the urgency of apprehending these brokers and stated that the state's strategy was to push back the illegal immigrants instead of arresting them. The chief minister reasoned that arresting them might lead to bail applications, potentially allowing them to attempt to acquire Indian citizenship.
The Assam Police's successful operation is seen as a crucial step in combating the illegal influx of Rohingyas and Bangladeshis into India. By apprehending those involved in the racket of providing fake citizenship documents, the authorities aim to strengthen national security and preserve the country's unity and sovereignty. The ongoing efforts by law enforcement reflect the government's commitment to safeguarding the integrity of India's borders and maintaining internal stability.