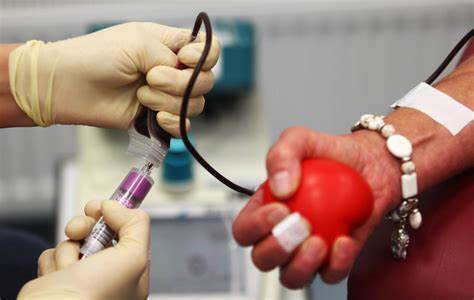 ATGDA Organizes Successful Voluntary Blood Donation Camp in Tripura with Chief Minister as Chief Guest, Emphasizes Need for a Drug-Free Society.
The All Tripura Government Doctors Association (ATGDA) recently organized a voluntary blood donation camp in the conference hall of the Dr B.R.Ambedkar nursing college, located within the compound of the IGM hospital. The event saw a large number of doctors, all members of the ATGDA, attending the program, and over a hundred individuals voluntarily donating blood.
The chief guest at the program was Dr Manik Saha, the Chief Minister of Tripura, who expressed his appreciation for the initiative taken by ATGDA. In his speech, Dr Saha highlighted the significance of blood donation, mentioning that blood donated by people can benefit at least four individuals. He expressed hope that such initiatives for organizing blood donation camps would continue for the welfare of the people.
Dr Saha also used the opportunity to address the issue of drug addiction in Tripura. He called upon the people to come forward and work towards making Tripura a drug-free society, as the menace of drugs has been adversely affecting familial and social stability. He emphasized that the government and the police alone cannot completely stop drug addiction, and a larger initiative by society and its people is essential to eradicate this menace from the society.
"The addiction to drugs has assumed such high proportions that the government and the police alone cannot put a complete stop to this; a larger initiative by society and people at large is essential to rid the society of the menace of drugs and addiction to it," said Dr Saha.
The voluntary blood donation camp organized by ATGDA was not only a successful endeavor in terms of blood collection but also served as a platform to raise awareness about the need for a drug-free society. The event highlighted the importance of collective efforts in addressing social issues and encouraged individuals to come forward and contribute to the betterment of the community.
ATGDA's initiative in organizing the blood donation camp and Dr Saha's call for a drug-free society reflect the commitment of the government and the medical community in Tripura towards the well-being of its people. It serves as a reminder that proactive measures, including blood donation and addressing social issues like drug addiction, are vital for the betterment of society as a whole.