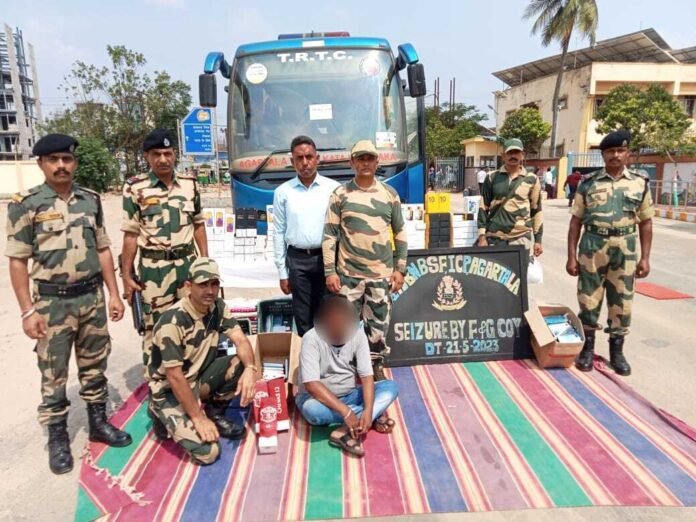 On Sunday, the Border Security Force (BSF) displayed their vigilance by seizing a total of 665 smartphones, including 363 brand-new devices of various makes and models, from a Tripura government-owned bus. The driver of the bus was apprehended in connection with the incident.
According to a press release issued by the BSF Tripura Frontier's Public Relations Officer (PRO), the Maitri Bus Service, operated by the Tripura Road Transport Corporation (TRTC), was en route from Agartala to Dhaka. Upon its arrival at Gate No. 02 of the Integrated Check-Post (ICP) in Agartala for security inspection, all passengers, except for the driver named Badal Haque, proceeded inside the ICP along with the bus conductor and liaison officer for immigration and customs clearance, following the standard protocol. Meanwhile, BSF officials, including the intelligence team, conducted a thorough examination of the bus.
During the inspection, the BSF officials noticed an anomaly—a plate fitted with a nut bolt appeared to be clean, while the surrounding plates were muddy. Utilizing their tool kit, the officials opened the suspicious cavity and discovered a stash of 665 mobile phones, including 363 brand-new devices of various makes and models hidden inside. The individuals responsible for transporting these phones were already within the confines of the ICP, and upon realizing that their concealed goods had been seized by the BSF, they swiftly completed the immigration process and left as regular passengers. The BSF apprehended the bus driver and confiscated the mobile phones, which were subsequently handed over to customs officials after completing the necessary formalities.
The incident highlights the effective surveillance and enforcement efforts of the vigilant BSF troops deployed along Tripura's international border. Their dedicated service plays a crucial role in safeguarding the nation's frontiers and routinely intercepting contraband items in the bordering regions.