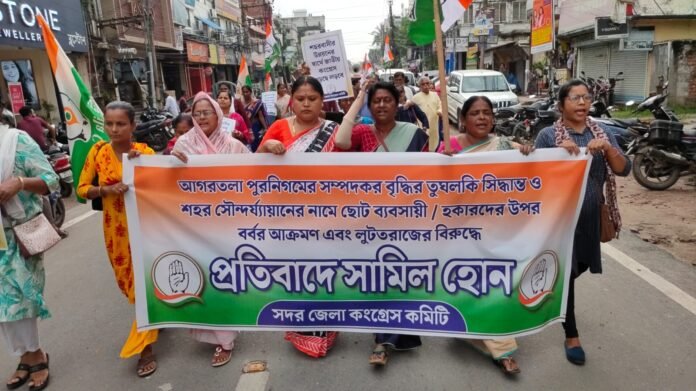 The opposition Congress party in Tripura organized a rally on Saturday to voice their protest against the eviction drive orchestrated by the Agartala Municipal Corporation (AMC). The move, timed just ahead of the festive season, has sparked controversy and garnered criticism from the political party. Alongside their demand for the withdrawal of property tax, the Congress party also called for the repeal of the recently imposed power tariff hike.
Leading the rally in Agartala, Congress leader Prabir Chakraborty decried the impact of what he referred to as the "double-engine government" on the lives of the state's citizens. He emphasized the onerous burden placed on the populace due to the government's imposition of hefty taxes, particularly the property tax.
Chakraborty further alleged that a series of ill-considered decisions had been made by the AMC and the power department, notably in the lead-up to the Durga Puja festival. These decisions, he contended, included abrupt notifications demanding substantial property tax payments and an unwarranted escalation in power tariffs.
Addressing the recent eviction drive conducted by the AMC, Chakraborty did not mince words in his critique. He accused the corporation of prioritizing the aesthetic enhancement of the city at the expense of the livelihoods of roadside vendors, who were abruptly displaced just before the Durga Puja festivities.
The Congress party's rally serves as a stark manifestation of their opposition to the actions of the AMC and the government's policies, which they believe are adversely affecting the lives and livelihoods of the citizens of Tripura. The issue has sparked considerable public discourse and debate, underscoring the significance of these demands for the opposition party.