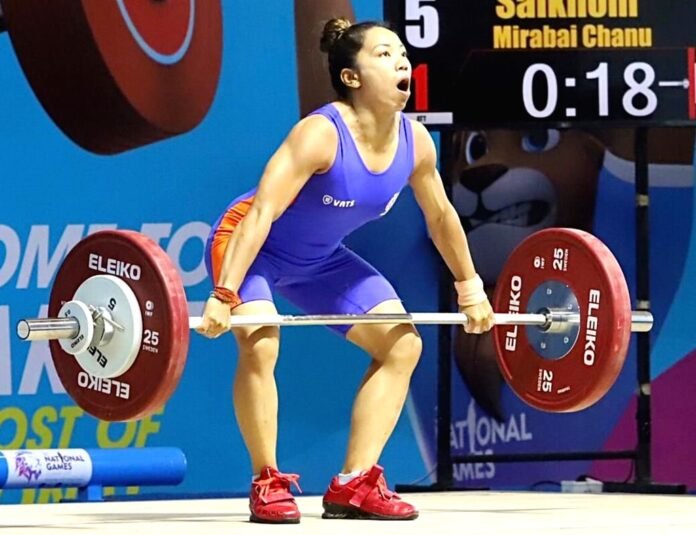 In a closely contested battle on the weightlifting platform, India's star weightlifter, Mirabai Chanu, narrowly missed out on an Asian Games bronze medal, securing the fourth position in the Women's 49kg category. The competition showcased her remarkable strength and determination, even though the podium finish eluded her on this occasion.
Mirabai Chanu, a silver medalist at the Tokyo Olympics, entered the Asian Games with high hopes and a strong desire to add to her list of achievements. Her performance drew attention as she lifted impressive weights during the competition, highlighting her exceptional skill and dedication to the sport.
Throughout the competition, Mirabai Chanu showcased her incredible strength, successfully lifting heavy weights in the snatch and clean and jerk events. Her technique and form were impeccable, earning her accolades from fans and fellow athletes.
Despite her outstanding performance, Mirabai Chanu faced fierce competition from other talented weightlifters in the category. The battle for the bronze medal was closely fought, with mere kilograms separating the athletes. Mirabai Chanu's efforts were commendable, but she fell short of securing a medal by a narrow margin.
The fourth-place finish at the Asian Games is a testament to Mirabai Chanu's dedication and hard work in her quest for excellence in weightlifting. Her journey has inspired many and continues to be a source of pride for India.
As Mirabai Chanu reflects on her performance at the Asian Games, she remains determined to achieve further success in the sport. Her resilience and commitment to continuous improvement make her a strong contender for future competitions, including the upcoming international events and the next Olympics.
More About Asian Games
The Asian Games have once again highlighted the fierce competition and the high level of skill in weightlifting, showcasing the incredible talent from various countries in the region. Mirabai Chanu's performance served as a reminder of the dedication and effort required to compete at the highest level of the sport. While the bronze medal may have eluded Mirabai Chanu this time, her journey as a weightlifter is far from over. She continues to be a prominent figure in Indian sports and an inspiration to aspiring athletes.
In addition, Mirabai Chanu's fourth-place finish in the Women's 49kg category at the Asian Games demonstrates her exceptional skill and determination as a weightlifter. While the podium finish remained just out of reach on this occasion, her performance continues to inspire and serves as a testament to her commitment to the sport of weightlifting.