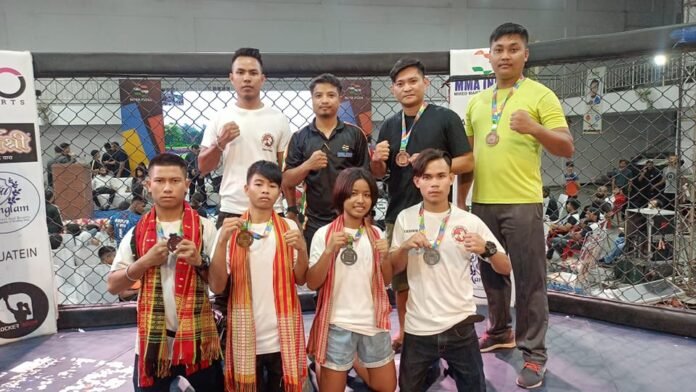 In a display of exceptional skill and determination, fighters from MMA Tripura have emerged triumphant at a major martial arts event, bagging one gold, two silver, and three bronze medals. This remarkable achievement marks a significant milestone for MMA Tripura and showcases the immense talent and dedication of its participants.
The highly competitive event witnessed over 400 fighters from 24 states, including Union Territories, vying for glory. Amongst this fierce competition, the MMA Tripura fighters showcased their prowess, overcoming numerous challenges to secure their well-deserved medals. Out of the nine participants representing the state, an impressive six fighters showcased their mettle on the grand stage, with one securing gold, two winning silver, and three clinching bronze.
Attaining a medal in such a large-scale event with a participation count exceeding 400 fighters is no mean feat. The fighters representing MMA Tripura demonstrated their unwavering resolve, skillfully maneuvering through their bouts and leaving no stone unturned in their pursuit of victory. Their commitment and relentless effort were evident in each hard-fought match, making their success even more commendable.
While three fighters narrowly missed out on securing medals after showcasing their potential in the preliminary fights, their valiant efforts are a testament to their talent and dedication. It is expected that these fighters will bounce back stronger in the future, armed with invaluable experience gained from this competitive event.
MMA Tripura extends its heartfelt gratitude to MMA INDIA for their unwavering support and hospitality throughout the tournament. The association is grateful for the love and encouragement received, which has played a significant role in the success of its fighters. The achievements of the MMA Tripura team are a collective triumph, highlighting the synergy between the fighters and the support they have received from various esteemed individuals.
Prominent figures such as Tinku Roy, Minister of Youth & Sports Affairs; Bikash Debbarma, Hon'ble Tribal Welfare Minister; Suhel Debbarma, Hon'ble Minister of Youth & Sports Affairs – TTAADC; and Dr. Manik Saha, Hon'ble Chief Minister of Tripura, have expressed their admiration for the fighters and their remarkable performance. Their words of encouragement and appreciation further validate the significance of this achievement and serve as a source of inspiration for future endeavors.
The success of MMA Tripura at this prestigious event sets a new benchmark for martial arts in the state. It is a testament to the talent, determination, and unwavering spirit of the fighters who have made Tripura proud. This exceptional achievement will undoubtedly serve as a catalyst for the continued growth and success of MMA in the region.