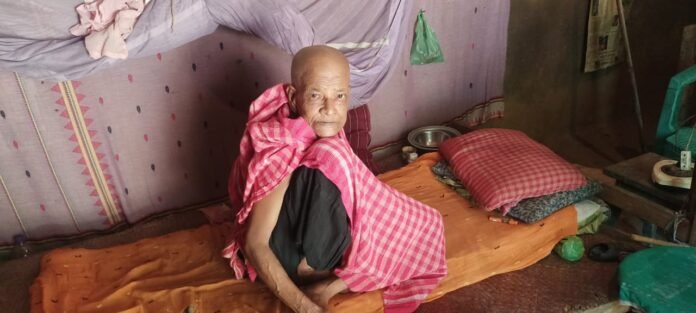 A nonagenarian woman residing in the Chowdhury Tilla area of Kamalasagar assembly constituency in Tripura's Sepahijala district has been deprived of her social allowance due to the alleged negligence of the Panchayat Pradhan. The elderly woman, wife of late Hara Kshirda Sarkar, expressed her anguish in front of the media on Wednesday, revealing that despite repeated attempts to approach the Panchayat Pradhan and submit the required documents, she has not been granted any allowance. The Pradhan's angry response has been that the allowance is not possible.
The 90-year-old woman further shared that she has faced multiple hardships, including the death of her husband and only son, who left behind two grandsons, one of whom is married. The family struggles to make ends meet, with the grandsons working in other people's houses for a living. Their temporary home is also not adequately protected against rainwater, and they do not have a proper arrangement of houses from the government's side. Additionally, their ration card is not categorized as Below Poverty Line (BPL), further adding to their difficulties.
The elderly woman alleged that the Kamalasagar Panchayat Pradhan, Chandan Sarkar, has been unhelpful and disrespectful towards the people in the area since assuming office. She has appealed to the Bishalgarh RD block and hopes for action from the administration or intervention from the local MLA of Kamalasagar assembly constituency, Antara Deb Sarkar, to ensure that she receives the old-age allowance, which could help her sustain her livelihood in her twilight years.
The negligence of the Panchayat Pradhan has left a 90-year-old woman deprived of her social allowance in Tripura, adding to her hardships in life. The situation highlights the need for prompt action from the authorities and local representatives to address the plight of vulnerable individuals in the community and ensure their well-being.