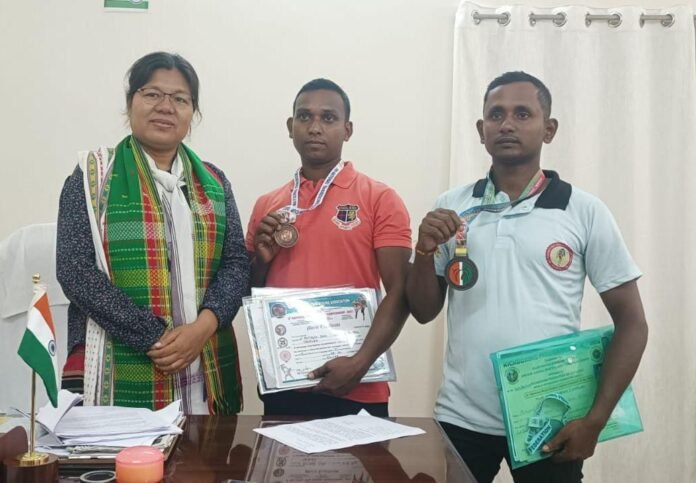 Residing within the small state of Tripura, two exceptional athletes, Mithun Das and Sukanta Sarkar, who have excelled in Thaiboxing, paid a courtesy visit yesterday to Patal Kanya Jamatia, a prominent figure in the state. The athletes sought financial assistance from the Modi Government of Tripura State to further their careers and represent the nation on the global stage.
Jamiatia, a staunch advocate for nurturing local talent, believes that given the right opportunities at the right time, the state, society, and the country at large can be illuminated by the brilliance of these gifted individuals.
"Tripura is a small state, but it is overflowing with diverse and exceptional talents," expressed Jamatia. "If we provide them with the necessary support and platforms, our society and nation will shine brighter than ever before. We have proven this in the past, and we are committed to doing so again."
Mithun Das and Sukanta Sarkar, both accomplished Thaiboxers, are set to compete in the Thaiboxing Championship 2023 and the World Thaiboxing Championship 2023 respectively. Their dedication and skill have garnered them recognition not only within the state but also on a national level.
"We are immensely proud of Mithun and Sukanta's achievements in Thaiboxing. They are a testament to the wealth of talent that exists within Tripura," said Jamatia. "We are confident that with the right resources and support, they will go on to make the state and the nation proud."
The visit to Jamatia's TRPCL chamber marks a significant step towards realizing the athletes' dreams. The financial assistance sought will be instrumental in their preparation and participation in the upcoming championships.