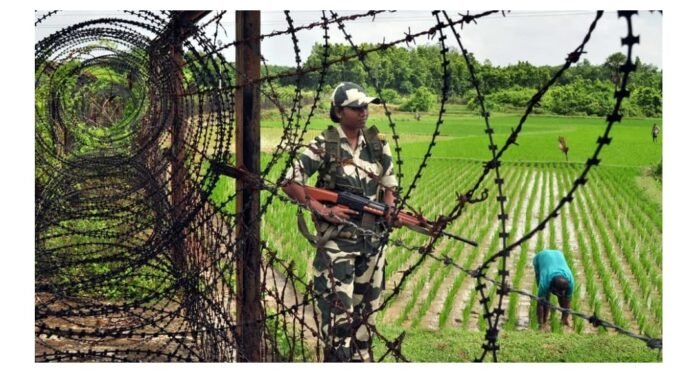 Agartala: In a significant development, Tripura authorities have apprehended a total of 235 illegal Bangladeshi migrants since the beginning of 2021, as part of an ongoing crackdown on unauthorized immigration.
The northeastern state of Tripura shares a porous border with Bangladesh, making it vulnerable to illegal migration. In a concerted effort to tackle this issue and maintain border security, the state's law enforcement agencies, in collaboration with central security forces, have been conducting rigorous operations to identify and apprehend individuals involved in illegal crossings.
The arrests of the 235 illegal Bangladeshi nationals reflect the determination of the authorities to address this longstanding concern. The detained individuals were reportedly apprehended from various locations across the state, with the majority of them being nabbed near border areas.
The operations to identify and apprehend the illegal migrants have been carried out through intelligence-based strategies and coordinated efforts between the state police, Border Security Force (BSF), and other security agencies. These efforts have been bolstered by improved surveillance technologies, increased patrolling, and enhanced cooperation between India and Bangladesh in sharing intelligence related to illegal immigration.
The apprehended individuals will be subjected to due legal processes, which may involve verifying their identities, conducting background checks, and initiating necessary legal actions as per the prevailing immigration laws. The goal is to ensure that individuals involved in unauthorized immigration are dealt with in accordance with the established legal framework, while also respecting human rights.
Illegal migration poses several challenges, including the strain it puts on local resources and services, as well as potential security implications. By intensifying their efforts to curb unauthorized immigration, Tripura authorities aim to safeguard the state's integrity, protect the interests of its residents, and uphold the rule of law.
The ongoing crackdown on illegal Bangladeshi migrants in Tripura is a clear demonstration of the government's commitment to addressing this issue and maintaining effective border control. It is a testament to the collaborative approach taken by law enforcement agencies, security forces, and other stakeholders involved in this endeavor.
As the crackdown continues, the authorities remain vigilant and proactive in identifying and taking action against individuals involved in illegal immigration. The concerted efforts, combined with sustained cooperation between India and Bangladesh, are expected to yield positive outcomes in curbing unauthorized migration and ensuring the security and well-being of the region.