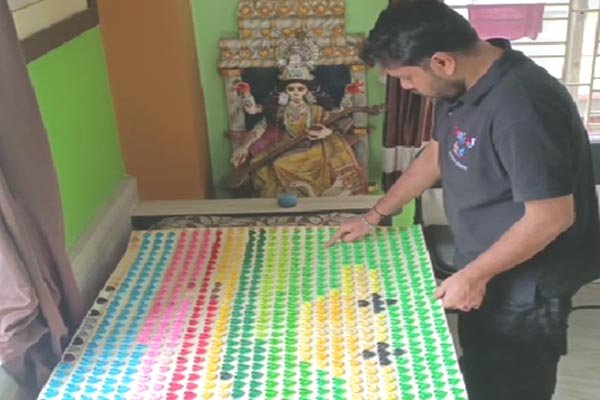 Siddhartha Saha, a talented 33-year-old artist from Tripura, has gained attention for his exceptional skills in quilling artworks and is now on the verge of setting a Guinness World Record. With a decade of dedicated work in quilling paper, he has already been recognized in the India Book of Records.
In his pursuit of creating a Guinness World Record, Siddhartha is planning a three-day exhibition titled "largest display of quilling hearts." The event will take place at the Lalit Kala Akademi near Nazrul Kalakshetra, commencing on May 27. His ambitious goal is to create over 20,000 quilling hearts, which will be showcased during the exhibition.
The exhibition will be open to the public from 4 pm to 9 pm on May 27, and from 10 am to 9 pm on May 28 and 29. This allows visitors ample time to appreciate the intricate beauty of Siddhartha's quilling creations.
Siddhartha's passion for quilling art reached new heights during the Covid-19 lockdown period. Despite the challenging circumstances, his determination led him to achieve recognition for his remarkable work. He devotes several hours regularly to create stunning quilling artworks.
In a recent media interview, Siddhartha mentioned that his artwork requires quilling sticks, quilling strips, and glue. He coils the paper using quilling sticks and then shapes them into various forms, including both 2D and 3D designs.
Siddhartha Saha's journey in quilling art is an inspiring example of how dedication and passion can lead to remarkable achievements. With his upcoming exhibition, he aims to not only set a Guinness World Record but also showcase the beauty and creativity of quilling to a wider audience.