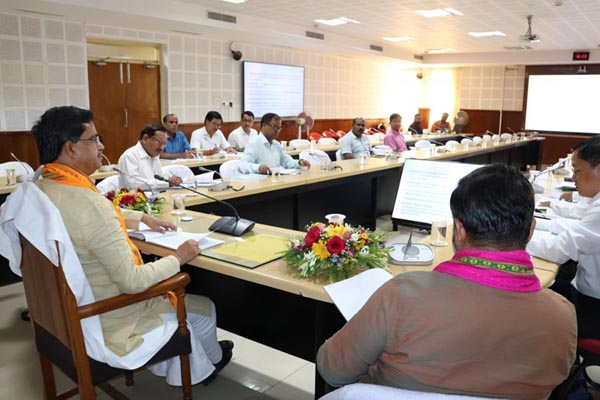 The Chief Minister of Tripura, Dr. Manik Saha, has announced multi-faceted plans to strengthen the tourism sector in the state, with a view to making it a source of alternative economy. At a review meeting held on Thursday, the Chief Minister emphasized on making all tourist spots more attractive and ensuring adequate security arrangements in the locations. He also called for strengthening the tourist guide facility and introducing home-stay facilities near all tourist locations.
The review meeting was attended by Tourism Secretary U.K. Chakma, Minister for Tourism and Transport Sushanta Chowdhury, Principal Secretary Puneet Agarwal, Secretary P.K. Chakraborty, and other officials.
During the meeting, Chakma spoke on the new facilities introduced and plans taken for developing the tourism sector in Tripura. The government is focusing on promoting tourism as a source of alternative economy, and is working towards making all tourist destinations more attractive to visitors.
The Chief Minister also took a review of the Transport department, and emphasized on working in coordination with the Traffic unit for ensuring road safety and preventing road accidents. He asked the officials concerned to maintain the guidelines while attaching number plates in the vehicles, including two wheelers.
The state government has taken various initiatives to promote tourism in Tripura, including improving infrastructure at tourist locations, developing eco-tourism, promoting adventure tourism, and establishing more tourism centers. The government is also promoting the state's rich cultural heritage, including its art, music, dance, and festivals.
Tripura has immense potential for tourism, with its beautiful landscapes, rich culture, and diverse wildlife. The state is home to several wildlife sanctuaries and national parks, including the Sepahijala Wildlife Sanctuary, the Gumti Wildlife Sanctuary, and the Trishna Wildlife Sanctuary. There are also several historical sites and temples, such as the Ujjayanta Palace, the Neermahal Palace, and the Tripura Sundari Temple, which attract tourists from all over the world.
The state government is committed to developing the tourism sector in Tripura, and is working towards making it a major contributor to the state's economy. With its vast potential for tourism, Tripura has a bright future as a top tourist destination in the country.